The Group of Ministers, which is reviewing the recovery path of Air India, will meet next month to discuss the infusion of Rs 1,200 crore (Rs 12 billion) as equity and review the steps taken by the national carrier for achieving a turnaround.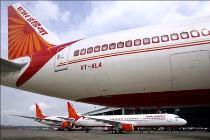 "First, we will discuss about the turnover strategy and the entire revival plan of the company within the organisation and also with the employees' unions. After that, we will brief the GoM meeting next month," Civil Aviation Minister Praful Patel told PTI here.
The GoM, headed by Finance Minister Pranab Mukherjee, was earlier slated to meet this month. Besides Patel, its other members are Home Minister P Chidambaram and Law Minister Veerappa Moily.
Government has pumped in equity worth Rs 800 crore (Rs 8 billion) in the last financial year and plans to infuse Rs 1,200 crore (Rs 12 billion) more this year.
After the last meeting of the GoM on February three, Patel had met and briefed the Finance Minister on Air India's status in May.
He was accompanied by independent directors of the national carrier, including industrialists Anand Mahindra and Harsh Neotia and former IAF chief Fali Homi Major.
Following this, Air India also appointed its first Chief Operating Officer, Gustav Baldauf. Patel has maintained that the national carrier, which has been experiencing massive losses over the past few years, is on the path of recovery and the government would back it to see that it regains its financial strength in the next three years.
The airline achieved savings of Rs 753 crore (Rs 7.53) in 2009-10 and was in the process of implementing a roadmap for financial, commercial and organisational restructuring whose benefits would start showing results in the next three years.
The components of the restructuring plans include fleet rationalisation, rationalisation of routes and manpower, operationalisation of Strategic Business Units and improving passenger services.
This is the first time since the March 2007 merger that the national carrier had witnessed any sign of recovery. The airline has also started experiencing improvement in yields with a rise in passenger traffic and witnessing a nearly 17 per cent growth in daily passenger carriage.
With the upswing in passenger carriage in April this year, Air India's domestic market share rose to 18.2 per cent, bringing it on par with other full service carriers. It registered losses of Rs 2,226.16 crore (Rs 22.26 billion) in 2007-08 and Rs 5,548 crore (Rs 55.48 billion) in 2008-09.