Without commenting on the issues raised by Arvind Kejriwal's India Against Corruption (IAC) on DLF's link with Robert Vadra, son-in-law of Sonia Gandhi, Goldman Sachs has removed DLF from its Asia Pacific 'buy' list.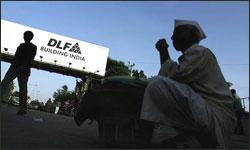 The research firm has cited that slower approval and fewer launches going forward has prompted it to downgrade the company from a 'buy' to 'Neutral' rating. DLF has in the first half of the current fiscal managed pre-sales worth Rs 1,500 crore (Rs 15 billion) against a full year target of Rs 6,000-6,500 crore (Rs 60-65 billion).
On account of lower pre-sales, Goldman has lowered DLF's earnings per share (EPS) target by 11-20 per cent for the period ranging between FY12 and FY15. Net Asset Value (NAV) discount has been increased to 20 per cent from 10 per cent on account of lower operating cash flow and higher execution and leasing risk. Price target of the company has been lowered from Rs 257 to Rs 224.
UBS, meanwhile, has said that the stock has corrected on increased noise in media on the company's political links; despite its "detailed clarification and denial of any concessions or favours". UBS feels that the issue will have no material impact on the business and with de-leveraging progressing well, it feels any further weakness offers an attractive risk-reward ratio.
UBS expects asset sales closure worth Rs 2,400-2,900 crore (Rs 24-29 billion) (Aman Resorts and wind power division) over the next two-three months and receipt of Mumbai land sale cash flow of Rs 2,700 crore (Rs 27 billion) to boost sentiment. This will help reduce the company's debt by nearly Rs 2,000-3,000 crore (Rs 20-30 billion) against its guidance of Rs 5,000 crore (Rs 50 billion).
UBS has pegged DLF's price target at Rs 280 per share and retained its 'buy' rating on the stock.
Photograph: Arko Datta/Reuters