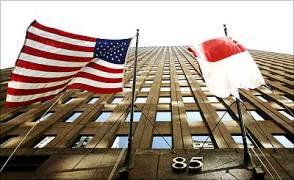 Goldman Sachs Group Inc raised $1.1 billion by selling its remaining shares in Industrial and Commercial Bank of China, ending a seven-year old investment and handing the Wall Street firm a return of nearly four times its original stake.

Goldman's relationship with ICBC was similar to that of other big global financial institutions that purchased stakes in Chinese banks and insurers.

While the relationship was profitable, involved some cooperation and helped Chinese lenders become some of the world's biggest banks, few products or strategic benefits emerged.

The selldown also comes at a time when Goldman, like other big Western banks, is keen to boost its balance sheet ahead of new capital requirements.

Prior to its 2006 initial public offering, ICBC was a technically insolvent state institution, reeling from the bad loans that had saddled China's financial industry.

ICBC's fortunes turned after it went public, and the bank grew along with China's economic boom.

The bank's $240 billion market value is now just shy of the combined worth of JP Morgan Chase & Co and Barclays.

Goldman agreed to invest $2.58 billion in ICBC in January 2006, using internal funds that invest a mix of client, employee and corporate cash.

With the final selldown, the last of six, gross proceeds from the sales would be $10.1 billion.

Calculating Goldman's own profit on the stake is tricky because not all of the investment came from its own balance sheet, and the cost of acquiring and maintaining the ICBC stake is unknown.

Goldman late on Monday sold 1.585 billion Hong Kong-traded shares of ICBC at HK$5.50 each, equivalent to a 2.5 per cent discount to Monday's close of HK$5.64, a person familiar with the matter told Reuters.

The deal, which was marketed in a range of HK$5.47-$5.50 per share, totaled HK$8.72 billion.

ICBC shares fell 2% to HK$5.53, compared with a 0.6% decline in the benchmark Hang Seng index.

CHINA GAME

Bank of America , Citigroup , UBS and Royal Bank of Scotland all bought into Chinese banks shortly after Goldman's deal, as Beijing prepared to float its major financial institutions on the Hong Kong and Shanghai stock exchanges.

Goldman began to sell its ICBC stake in 2009. The New York bank, like other foreign financial groups, was able to reap a hefty windfall from China holdings at the time, when cash was precious post financial crisis.

But unlike other foreign banks that sold out of China quickly, Goldman remained.

Goldman increased its pace of ICBC sales in the last few years, as banks needed to meet tougher capital requirements under the global Basel III accord, with asset sales one of the quickest ways for them to bolster their balance sheets.

US regulators are still in the process of finalising how they will implement Basel III, though banks are under pressure from investors to show they can meet the requirements regardless of whether the laws have been finalised or not.

Goldman also has a securities joint venture and a 12 per cent stake in Taikang Life Insurance Co.

Other foreign banks still have holdings in Chinese lenders.

Among them, HSBC Plc owns a 19.9 per cent holding in China's Bank of Communications Co Ltd and Spain's BBVA's has a 15 per cent stake in China Citic Bank Corp Ltd .

Goldman's sale on Monday is its third in about a year.

The New York-based investment bank raised $2.5 billion from a partial selldown of ICBC in April 2012, most of which was bought by Singapore state investor Temasek Holdings Ltd, and another in January 2013 worth $1 billion.

Since 2006, Goldman has reported $3.5 billion in net revenue related to ICBC in quarterly filings.
Image: Goldman Sachs headquarter in New York | Photograph: Reuters