The temples are concerned about the religious sentiments of the devotees who donate gold ornaments in the name of the deities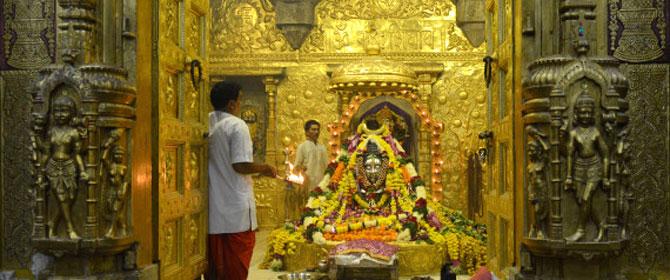 As the government seeks to monetise gold worth an estimated $1 trillion lying idle, all eyes are on their biggest repositories -- the temples -- but many of them fear that 'melting' of the ornaments donated by devotees may hurt religious sentiments.
Officials at a number of rich and famous temples across the country said they may not be able to immediately participate in the scheme, while a few others said the scheme was worth exploring but a final decision was yet to be taken.
For some temples, including Sree Padmanabhaswamy Temple in Kerala and the Shirdi Sai Baba temple in Maharashtra, the ongoing court cases are coming in the way.
The interest remains lukewarm among major temples in Kerala, Karnataka, Telangana and Rajasthan among other states, while a few in Andhra Pradesh, West Bengal and Gujarat have shown initial interest.
However, most of them are concerned about issues like loss of value in the melting process and the religious sentiments of the devotees who donate gold ornaments in the name of the deities of the respective temples.
The Gold Monetisation Scheme, an ambitious initiative launched by Prime Minister Narendra Modi last month, aims to bring an estimated 22,000 tonnes of gold lying idle with households, religious institutions and others into the financial system in return for a regular interest payout and the market-linked appreciation value.
The gold can be deposited even in the jewellery form, but it gets melted and the value is determined after testing its purity. The depositor can choose an option to get back the gold at a later date in the equivalent of '995 fineness gold or Indian rupees' as they desire, but not in the same form.
Among various temples in Gujarat, the famous Ambaji temple has ruled out depositing its gold for the scheme at present, while Somnath temple has prepared a proposal in this regard and a final decision would be taken by its trustees.
Dwarkadhish temple in Devbhumi Dwarka is yet to take a call, but the chairman of the temple trust committee H K Patel said the scheme was worth giving a thought.
The famous Siddhivinayak Temple in Mumbai also appears interested in exploring the scheme as it is looking at options to utilise its 160 kg of gold reserves, out of which about 10 kg is already deposited with a bank.
The high-level Investment Committee of Tirumala Tirupati Devasthanam (TTD), which manages the world's richest Hindu temple of Sri Venkateswara Swamy, will also meet soon to discuss the issue of depositing its gold under this scheme.
Kanakadurgamma Temple in Vijayawada, the second richest temple in Andhra Pradesh, however has no plans to participate in this scheme, while neighbouring Telangana government has not taken any decision as yet on participating in the Scheme.
Photograph: Sam Panthaky/Getty Images