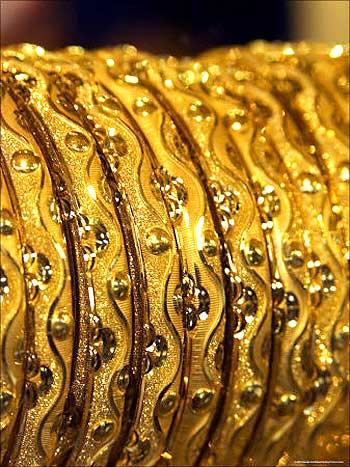 Gold imports in the first eight months of this calendar year were almost $24 billion.
Analysts expect another 300 tonnes or $13-13.5 billion worth of import in the remaining four months of calendar 2015.
The figure for all of 2014 was $31.2 billion.
There was an import surge to nearly $5 billion in August.
These might be subdued in September, as the market has again slipped to a marginal discount of $1-2 an ounce and demand is low due to the 16-day pitrupaksha period.
Prices have remained lower this year.
From $1,250-1,300 an ounce last year, they are now around $1,100. However, after withdrawal of the 80:20 import restrictions last year-end, imports have increased.
They slowed in May-June on fear of low rural demand due to a weak monsoon but a fall in prices from end-July led to a sudden rise in import, ahead of the festive season.

Increasing capacities of gold refineries in India has led to a spurt in import of dore, the semi-pure alloys. It was 120 tonnes for all of 2014, compared to 150 tonnes in January-August 2015.
Refineries import because there is a two per cent lower import duty and they also get refining margins on the dore they convert to gold bars.
From roughly 15 per cent of total import, this year dore's share might end at 25 per cent.
In August, dore import is estimated at 32 tonnes, the highest-ever monthly import.

In India, MMTC PAMPS is the only bullion refinery certified by the London Bullion Market Association.
Edelweiss Commodities hopes to get similar status in two years and Rajesh Exports is looking to integrate its refinery with Valcambi, its latest acquisition.
"In two years, there will be at least three LBMA-certified refineries.
"With their capacities and other small refineries taken together, dore imports will be half or even more of India's total gold import," said D P Jhawar, head of Edelweiss' commodities' business.

Dore import requires less outgo of foreign exchange, as it is cheaper and value addition by refining is done in India. Which is why it attracts eight per cent import duty, compared to 10 per cent for gold.