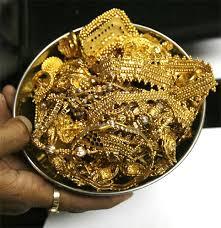 In a rush to raise cash to fulfil banks' payment commitments, bullion dealers are selling gold at a discount of $7-8 an ounce (Rs 175 for 10 gm) to jewellery manufacturers and retailers.

Abundance of supply might hit gold import in June, which is estimated to fall to 35-40 tonnes, a level not seen in the past several months.

Bullion dealers are competing with three types of other suppliers of gold into the system -- smugglers, domestic refiners and jewellery importers.
Smugglers do not require to pay 10 per cent of import duty and, hence, their cost of import works out to be cheaper than the official means of import.
Refiners import dore at lower rate of duty and process the same at their own refineries.
So, their cost of production works out to lower than the landed cost of gold into India. Also, gold extraction from scrap jewellery is cheaper than imported value of gold.

"Bullion dealers would have to compete with gold suppliers from these channels.
"Since demand has also been significantly lower, dealers sell gold at a discount of $7-8 an oz.
"Sitting on huge inventory amid poor demand, bullion dealers are matching with cheap imports from other sources and, therefore, they are selling at a discount," said Kumar Jain, managing director of Umedmal Tilokchand Zaveri, a Zaveri Bazaar-based bullion dealer and jewellery retailer.

Jewellery import from Asean countries and nations with which India has free trade agreements has increased significantly in the past few months.
So, a few local jewellery manufacturers and exporters prefer to import gold jewellery from FTA countries such as Indonesia at one per cent of import duty.
Their total cost works out to 3-4 per cent instead of 10 per cent import duty on gold.

In anticipation of wedding-season demand, bullion dealers had built their inventory between March and May.
However, the actual demand remained far lower than their estimates, resulting into abundance of gold supply in the domestic market.
Gold imports were at 125 tonnes, 81 tonnes and 63 tonnes in March, April and May, respectively.
Thus, the total import between March and May stood at 269 tonnes this year against 177.48 tonnes in the corresponding period of last year.
If the current trend is any indication, India's gold import in June would stand at 35-40 tonnes.

"Gold is sold at a discount today because of supply surplus. Actual demand remained lower this season," said Bhargav Vaidya, an analyst with B N Vaidya & Associates.

Manish Jain, managing director of R L Jewels (formerly Rajmal Lakhichand Jewellers) and ex-chairman of All India Gems and Jewellery Trade Federation, said dealers are selling gold to meet banks' commitment.

Gold demand from local consumers dried up in the past month.
End of wedding season followed by surplus monsoon rainfalls in June prompted farmers to defer fresh purchases to focus on kharif sowing.