The yellow-metal shot-up by a whopping Rs 945 or 3.38 per cent to end at Rs 28,835 per 10 grams.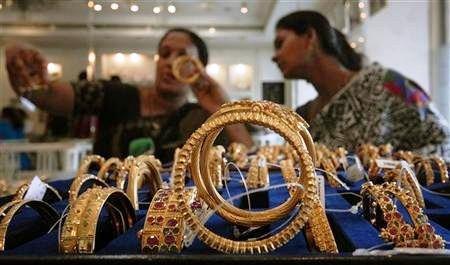 Gold prices staged a smart rebound to surpass the psychologically important Rs 28,000 milestone once again as frantic speculative buying activity swept the bullion hub in the face of highly bullish overseas trend.
Besides, swelling festive and wedding-related demand unleashed an unprecedented buying frenzy even investors scrambled to hold a bit of shiny metal on the back of collapsing stock markets.
The yellow-metal shot-up by a whopping Rs 945 or 3.38 per cent to end at Rs 28,835 per 10 grams - the level not seen since May 20, 2014.
The sudden buying frenzy was triggered by the metal's stealth rally worldwide trade it jumped to the highest level in ten-months after the US central bank signaled delaying further interest-rate hikes and also warned that global financial market turbulence could hurt US growth.
Elsewhere, silver also witnessed a massive upsurge, rallying by a hefty Rs 1,215 to finish at Rs 38,000 mark on heavy stockists as well as industrial buying support.
Gold has staged an impressive rebound in 2016 after three consecutive year of downtrend and gained for most of January until this week, underpinned by weakness in global equities on concerns over emerging economies, a bullion trader commented.
In the meantime, the Indian stock market benchmark index crashed by over 800 points to end below 23,000-mark, while rupee ended more than 29-month low at 68.30 against the US dollar.
Standard gold (99.5 purity) jumped by Rs 945 to end at Rs 28,835 per 10 grams from Wednesday's close of Rs 27,890.
Pure gold (99.9 purity) also zoomed by a similar margin to conclude at Rs 28,985 per 10 grams as compared with Rs 28,040 earlier.
Silver (.999 fineness) skyrocketed by Rs 1,215 to settle at Rs 38,000 as against Rs 36,785 yesterday.
In worldwide trade, the shiny-metal powered ahead to surpass the significant $1,200 an ounce mark on safe-haven attractiveness and also persistent risk-off sentiment following the overnight dovish monetary policy tightening remarks by US Federal Reserve chair Janet Yellen.
The US central bank also reiterated the policy setting committee's expectations for "gradual adjustments" in monetary policy in the midst of global financial market turbulence which could hurt US growth in near term amid concerns over the Chinese economic growth outlook.
In the meantime oil prices on the New York Mercantile Exchange cracked below $27 per barrel amid a wider supply glut.
Spot gold was sharply higher at $1,235 an ounce in early European trading, while silver quoted firm at $15.15 an ounce.
© Copyright 2022 PTI. All rights reserved. Republication or redistribution of PTI content, including by framing or similar means, is expressly prohibited without the prior written consent.