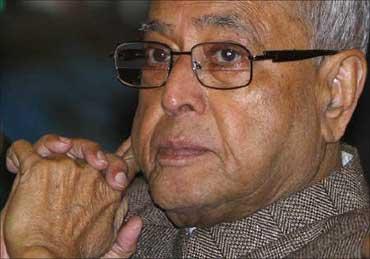 Amid perception of policy paralysis in the government, Finance Minister Pranab Mukherjee on Friday assured the global financial community of reverting the Indian economy to recovery path by creating conditions for revival of private investment.

"For the current fiscal year, we have set our objective to focus on recovering our pre-crisis growth momentum, create conditions for rapid revival of high growth in private investment and address supply bottlenecks in agriculture, energy and transport sectors," he said at the ADB Governor's business session in Manila.

The Finance Minister said despite adverse international environment, India managed to maintain GDP growth rate of about 7 per cent in 2011-12.

"I am confident that the strong fundamentals of our economy will help us return to a sustained growth path of 8 to 10 per cent per annum in the coming years," Mukherjee added.

Indian economy was expanding at over 9 per cent before the global crisis of 2008 pulled down the growth rate to 6.7 per cent in 2008-09.

He exuded confidence about rapid revival of growth in the private investment at a time when the government is facing charges of paralysis in policy making, and criticism over the proposed changes to tax laws with retrospective effect to bring in net Vodafone-Hutchison like deals that involve assets in India.

He further said India's banking has remained robust and the regulatory environment and environment in the financial sector have stood test of time.

Mukherjee told the gathering that the country's external commercial borrowings policy has been successful in maintaining external debt at sustainable levels.

At a time when public debt has emerged as major worry for several governments in Europe, India has managed well on this count. Indian government's outstanding internal debt at Rs 32,27,288 crore (Rs 32,272.88 billion) constituted 36.2 per cent of gross domestic product at the end of March 2012.

Bulk of India's GDP is domestic demand driven, and savings drives much of it investment rates of 35-37 per cent of GDP.

Mukherjee's assertion on India's economic prospects comes at a time when uncertainty and risks in the global economy remain, though there are some welcome sings.

In 2011, developing Asia grew at an average rate of 7.2 per cent.

'To sustain our economic growth, we need to keep our focus on the development agenda. . . find new and renewable technologies to fuel our growth and invest in education and skill development', the minister said.

He laid emphasis on infrastructure development.

India has planned $1 trillion investment in the sector for the 12th Five Year Plan (2012-17) period, with half of it coming from the private sector.

Highlighting the role of ADB, Mukherjee said that with the help of the multilateral lending agency, Indian government  has successfully pioneered a number of development innovations across the country.

He further said that for developing new sources of growth within Asia, deepening of South-South ties is vital.

"Policy makers will need to remove barriers to trade and investment within the developing South.

ADB should take up South-South cooperation as a priority. . .," the minister added.
Image: Pranab Mukherjee