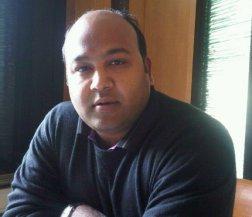 GMR Holdings, apex body of the GMR Group, has effected a surprise restructuring by bringing in Kiran Kumar Grandhi, the youngest son of G M Rao, as corporate chairman.

G M Rao continues to be the group chairman.

GMR Holdings controls about 71 per cent in the publicly held flagship company of the group, GMR Infrastructure.

Grandhi, 38, was earlier in charge of the urban infrastructure and highways business, which contributes five per cent of the Rs 10,000-crore revenue of GMR Infra.

In the new role, effected in the past 10 days, he will be in charge of the corporate strategy, finance and sports businesses. B V N Rao, another senior member of GMR Holdings, will be responsible for urban infra and highways.

Analysts are surprised by the timing, within two years of the previous revamp of the board.

"Usually, GMR Group effects a rejig in a three-to-four-year period and this is indeed a surprise," a senior industry analyst told Business Standard.

GMR Group said the swapping of roles between Grandhi and B V N Rao was for personal reasons and on the request of the latter.

GMR had effected a rejig of its holding company board in September 2011, in which the roles of the two sons of G M Rao and the son-in-law were rotated, to give them exposure to all aspects of the group's businesses.

The company had made a restructuring in the mid-2007, too.

G M Rao's elder son, G B S Raju, is in charge of the energy business, while son-in-law Srinivas Bommidala is in charge of the airports vertical.

B V N Rao, who went to the same college as G M Rao, is one of the founding directors of the group, set up in 1988.

In addition to being responsible for urban infra and highways, he is managing director of GMR Infra.

For Grandhi, sources said, the role of the corporate chairman has been chiselled and some other functions has been moved to another senior board member.

Bringing Grandhi to a key corporate strategy role comes when the company is going through the throes of right-sizing itself as part of an "asset light, asset right" strategy.

It is looking aggressively at reining its debt, which is taking a toll on GMR Infra.

The company, with a gearing of a little over 3.5 times, under a loan pile of Rs 35,000 crore (Rs 350 billion), is looking at shedding close to Rs 10,000 crore (Rs 100 billion) of debt in FY14.

Grandhi, who has been with GMR Group since 1996, was one of the key personnel to have overseen GMR's flagship project, the revamp and expansion of Delhi International Airport, including the landmark Terminal-3 project.
Kiran Kumar Grandhi; Photograph courtesy: Twitter.com