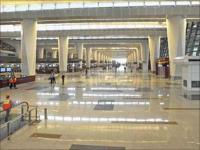 Group chief financial officer
A Subba Rao
urges for opening more airports in India for private management, while detailing the investment plan for other projects, in an interview with
Raghuvir Badrinath
.
Edited excerpts:
Recently, GMR Infrastructure said it was interested in bidding for managing of airports in Spain. You are already managing airports at Turkey and in the Maldives. You are getting more active globally than in India? Is that how you intend to grow this business?


There are hardly any inorganic growth opportunities in India, unless government policy changes. Other than Mumbai, Delhi, Bangalore and Hyderabad, other airports which have good potential are not open for private players.
Airports at various cities can be offered to private players to manage. We are not clear as to why airports at such places are not being offered. I believe it is just a matter of time before pressure builds to privatise airports.
Effective from October, there is a management restructuring at the various holding companies of the GMR Group. How do you think this will play out over the next few years, as GMR embarks to expand its various businesses?


The businesses will function the same way, with the road map laid out. There is a rotation of business chairman. G B S Raju, the eldest son of G M Rao, will head the energy division from his earlier role as chairman, corporate functions and international business.
Kiran K Grandhi will focus on highways and urban infrastructure and will move out from being in-charge of the airports business.
Srinivas Bommidala, son-in-law of G M Rao, will oversee the airports business.
These changes are being effected to make each of them well-versed in all sections of the businesses GMR is involved
in.
In addition, some of the divisions are also being re-aligned. For example, the land assets at the two airports we manage was under the urban infrastructure vertical and they are being moved to the airports one, for better synergies.
What kind of investments has GMR Infra lined up to expand the power and roads business?


We are on road to add 5,000 Mw of power generation capacity and we have won India?s largest highway project, with a projected cost of Rs 7,500 crore (Rs 75 billion).
Over time, we should be infusing around Rs 5,000 crore (Rs 50 billion) equity for all these projects, including the recent acquisition of a coal mine in Indonesia.
We are adequately funded, having recently raised close to Rs 3,800 crore (Rs 38 billion) from a clutch of private equity players at the airports and power divisions, and the sale of Intergen.
Will GMR Infra follow the route of tapping private equity for the roads business, which is growing at a rapid pace?


Eventually, that is the road map. As a prelude to making each of the verticals self-sufficient and then taking them public, we will raise private equity at the roads vertical as well, similar to the process at the airports and power verticals.
However, there is no pressing need at this vertical. For the new project, we will have to infuse around Rs 1,800 crore (Rs 18 billion), over three years.
The net debt of GMR Infra is at close to Rs 17,000 crore (Rs 170 billion), on a leverage of around 1.5 times. The promoters have pledged 16.5 per cent of their 70.28 per cent holding in the company. Is there a road map to restructure debt?


We are working on options, the details of which I cannot disclose now.
A leverage of around 1.5 times is not worrying, though, as infrastructure companies usually work on a leverage of as much as three times.