In an effort to become a large global player in the airport sector, the Bangalore-based GMR group is considering placing bids for operating the two leading airports in Spain: Madrid Barajas and Barcelona's El Prat.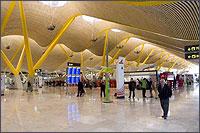 Both  airports handle around 70 million passengers a year and have a capacity to handle 125 million passengers.

Confirming this, a GMR spokesperson said: "It is always better to tie up with a local partner for international airports. We might also look at roping in a local partner for the airports in Spain we are considering."

Confronted with growing debt, the Spanish government last month authorised the sale of 90.05 per cent stake in these two airports, to be run through a special purpose vehicle to be created for the purpose. The management contracts for Madrid and Barcelona will be for 20 years and can be extended by five more.

The base price for the bidding has been fixed at $5.2 billion for the Madrid airport and about $2.2 billion for Barcelona. The successful bidders also have to pay an annual fee, which is 20 per cent of the airports' revenue.

Madrid is the fourth busiest airport in Europe and the 11th busiest in the world while Barcelona is the 10th busiest airport in Europe. Madrid carried over 49 million passengers and  Barcelona handled over 29 million passengers per annum in 2010.

Globally, the GMR group has built and is operating the Istanbul airport and also building the airport in Male. In India, the group has built and operates the Delhi and Hyderabad airports. GMR shot into the limelight after it tied up a consortium to build Delhi airport's Terminal-3, which has a capacity to handle 34 million passengers a year alone.

GMR is also looking at airports in Puerto Rico, Indonesia and Africa.

"We are looking at a tie-up with Incheon Airport of South Korea to bid for the Puerto Rico airport (the Luis Munoz Marin International Airport)," said the GMR spokesperson. The airport handles about 8.56 million passengers per annum and is on offer for up to a 50-year concession period.

The infrastructure major is also in talks with the Indonesian government for some of its airport projects. The Indonesian government had announced a plan to develop 14 new airports in the country, many of them in the eastern parts of the country.

The group is in discussions with the authorities in Kenya and Tanzania, which are also looking at setting up new airports. The Kenyan government is planning to set up a new international airport at Taveta on the border.

GMR has also been shortlisted for financial bids for the Zagreb airport in Croatia. The project involved building a terminal and running the present airport.