India's leading private airport developers, GMR and GVK groups, are planning to bid for the modernisation of Ngurah Rai International Airport in Bali, Indonesia. Both are currently undertaking feasibility studies and preparing to participate in the tender process, sources said.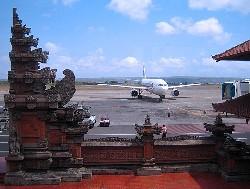 Indonesia's state-run airport operator, PT Angkasa Pura I, will soon float a tender for the first phase of the project, envisaged at a cost of about $210 million (Rs 950 crore) in investment. The project is scheduled for completion by 2013.

The new international terminal is to cover 120,000 sq metres, with a 39,000-sq metre, three-storey parking structure, with room for up to 1,500 vehicles.

The terminal is planned to handle up to 20 million passengers a year, said news reports from Indonesia. It was initially designed to handle 1.5 million passengers a year and now handles 9.5 million a year, including around five million foreigners.

"This airport is among the leading airports in Indonesia and attracts good traffic," said a source.

Sources said GMR may also be interested in bidding for a large new international airport proposed for Bali.

The Indonesian ministry of communications is seriously studying the creation of a new international airport each for Jakarta and Bali, said news reports a few days earlier, quoting Indonesian vice-minister of transportation, Bambang Susantono.

Sources said at this point they were not sure if Angkasa Pura would limit the participation of foreign bidders to just the construction of an airport.

"The news is purely speculative and as a policy we don't comment on speculation," said a GMR spokesperson. GVK's senior officials could not be spoken to for their comments.

The Ngurah Rai international airport in Bali is the first among five to undergo modernisation in Indonesia.

The others up for modernisartion in the coming years are Sepinggan in Balikpapan, Adi Sutjipto in Yogyakarta, Juanda in Surabaya and Ahmad Yani in Semarang, said sources.

At present, GMR manages the Istanbul Sabiha Gokcen International Airport in Turkey, with consortium partners Limak Holding, Turkey, and Malaysia Airports Holdings Berhad.

The international terminal at this airport, designed to handle 20 million passengers, was constructed by GMR three years earlier, for a total cost of Rs 3,143 crore (Rs 31.43 billion).