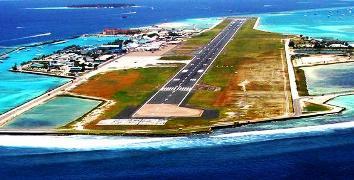 GMR Infrastructure Ltd, which was forced to give up a $511-million (Rs 2,960 crore on Tuesday) international airport project in Male late last year over alleged irregularities in the bidding stage, is understood to have got a reprieve from an anti-corruption body of Maldives, which ruled out corruption in the process.

A GMR Group spokesperson said: "We learn from media reports in the Republic of Maldives that the Anti-Corruption Commission of Maldives has submitted its report on the leasing of the Ibrahim Nasir International Airport."

The report by ACC gives a shot in the arm to the debt-ridden GMR, locked in an arbitration tussle with the current government of Maldives, seeking compensation over its unceremonious exit.

GMR Group chairman G M Rao had earlier said the company might seek as much as $700 million as compensation.

GMR has already written off a little over Rs 200 crore (Rs 2 billion) from its operations at Male.

The Maldives government, led by President Mohamed Waheed, earlier stated GMR was misled by the previous Mohamed Nasheed administration to signing a legally unsustainable agreement.

In addition to the alleged corruption during the bidding process, which was overseen by International Finance Corp, a member of the World Bank Group, the current government had said levying of airport development charge could not be done without the approval of Parliament.

The project was awarded to GMR in 2010.

As part of the arbitration proceedings at a court in Singapore, the Maldives government had recently submitted its views on the case.

At the time of exit, the Male airport operations clocked in a revenue of Rs 1,200 crore (Rs 12 billion) on an annual basis and a net profit of Rs 83 crore (830 million).

GMR had formed a 77:23 joint venture with Malaysia Airport Holdings for this project, which involved upgrading, maintaining and operating the existing airport, as well as building a new terminal by 2014.
Image: Male international Airport; Photograph, courtesy: Maldives Airports Company Limited