General Motors India on Thursday launched an all-new version of its entry level small car Chevrolet Spark, starting at Rs 326,000 (ex-showroom Delhi).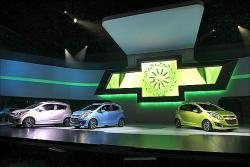 The new Spark is available in both petrol and LPG options and is costlier by up to Rs 10,000 from the existing comparable versions of the model, which will be discontinued, the company said.
The small car is now available between Rs 326,000 and Rs 381,000 (ex-showroom Delhi) for the petrol variant and Rs 381,000 and Rs 410,000 (ex-showroom Delhi) for the LPG option.
"The introduction of the all-new Spark reinforces GM's commitment to continually roll out new and upgraded products ...," General Motors India president and managing director Lowell Paddock said in a statement.
Apart from new design such as the twin-port grille, the new Spark has is powered by a 1-litre petrol engine with new-age innovations that ensure smooth, noiseless, efficient, powerful, reliable and low-maintenance operation, the company claimed.
GM India is offering a three-year/100,000-km standard warranty under the 'Chevrolet Promise Cost of Ownership Programme', which also provides free maintenance for three years or 45,000 km (whichever is first).