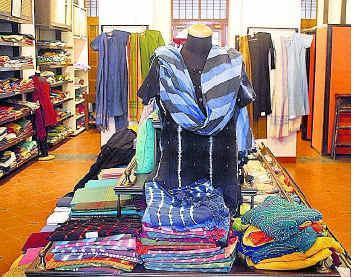 For international designer Alistair Blair, who has worked with global high-end fashion labels like Dior and Valentino, the next stop is a new Indo-Western line for ethnic Indian brand FabIndia.

Blair has developed a western wear line 'Fabels' for the lifestyle retailer.

His collection includes dresses with asymmetrical hem that has a flare similar to the 'anarkali' suit, chanderi sari print shirt, chikankari shirt and block printed shift dress. For the new line, Blair spent a month looking at weavers, dyers and block printers in action.

Fascinated by their work, his present designs reflect that influence.

"I think there is a need to revive the dying India art," says Blair, whose designs have been retailed at international stores like Saks Fifth Avenue and Henri Bendel in New York, Harrods in London, and Seibu in Tokyo.
The Scotland-born designer who has worked with top-notch names like Dior and Givenchy in Paris, and also assisted German fashion designer Karl Lagerfeld, opines that adding a dash of western touch to existing Indian fashion traditions can help re-position ethnic wear.

"Block printing appeals to me the most.

"You just put the blocks in any manner and there you get an amazing pattern.

Chikankari is also good, but it has a limited design," Blair says.

The designer also expressed his desire to bring out a tie for men with block printing. The 'Fabels' collection includes the quintessential plain white shirt, in chikankari, one which Blair says is his best yet.

"Every woman I know has a white shirt and now I want this white chikankari shirt to be the standard garment for every woman in India," the designer says. In the past, royals like Lady Diana and Sarah Ferguson have donned his designs and now Blair nurtures hopes of dressing up Indian filmstars.

"I think the white (chikankari) shirt would look fabulous on Kareena Kapoor," says Blair. Alistair Blair has been living in Goa for 8 years and feels the beauty and colours of India has influenced his designing.

"In western countries people mostly wear black, grey and blue but Indian women are extraordinary with colours," Blair says.

Blair says the western-oriented women, be it any part in the world, will get attracted to his collection.

"The collection would later be introduced to the international market as well," says Prableen Sabhaney, head of communication, FabIndia.

The collection for now will be available in Delhi, Mumbai, Bengaluru and Chennai.