Drug maker Glenmark said it along with its US-based partner has got the US health regulator's nod to manufacture and market two oxycodone products, used for treating moderate to severe pain, in the American market.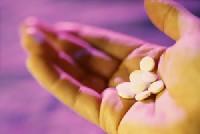 The company's US arm, Glenmark Generics Inc and Lehigh Valley Technologies (LVT) have received US Food and Drug Administration nod for Oxycodone immediate release capsules, the company said in a filing to the Bombay Stock Exchange.

The approval is for 5 mg capsule and 100 mg/5 ml oral solution, it said, adding, Glenmark Generics Inc and LVT have also signed a new supply and marketing agreement.

Under the terms of agreement, LVT will be responsible for manufacturing of the Oxycodone product line for Glenmark's exclusive marketing and distribution in the generic form, the company said. "LVT would retain exclusive marketing rights to the branded version of the Oxycodone product line," it added.

Further, the US firm will also retain exclusive marketing rights to additional strengths of Oxycodone product line in both generic and branded forms.

According to market research firm IMS health, Oxycodone Hydrochloride immediate release capsule and liquid formulations had total market sales of $13 million for the 12 months ended September 2010.

Shares of Glenmark Pharmaceuticals were today trading at Rs 382.10 on the BSE in the late afternoon trade, up 2.25 per cent from its previous close.