US car major General Motors Co has increased stake in its Indian operations to 93 per cent by buying 43 per cent from its Chinese partner Shanghai Automotive Industry Corporation Group for an undisclosed sum.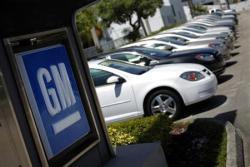 "The increase in shareholding in the Indian arm by General Motors is a reflection of the confidence that the company has here and in the long term potential of the country," General Motors India president and managing director Lowell C Paddock told PTI.
He, however, declined to comment on the financial details of the transaction.
In December 2009, Shanghai Automotive Industry Corporation Group (SAIC) and General Motors Company had announced expansion of their cooperation in Asia and formed a 50-50 joint venture investment company.
As a result of it, SAIC took 50 per cent stake in General Motors India, which became an equal joint venture between the Chinese automaker and the American automotive giant.
Following this, GM India had announced plans to launch a series of vehicles using platforms of the Chinese automaker.
The first of them will be the hatchback Sail, which will be launched next month, followed by the sedan version of the car along with multi-purpose vehicle Enjoy later in December.
When asked if the change in the stake holding in the Indian operations will affect future product pipeline, which are based on SAIC platform, Paddock said: "Not at all. On the contrary, the relationship will continue to strengthen as the GM-SAIC still continues in other Asian market, we will continue to have access to a variety of products."
Earlier in the past, GM India had said it was looking at launching about three models of light commercial vehicles (LCVs) from the SAIC platform in India and would also export the vehicles to other markets, mainly in South America and possibly in Southeast Asia.