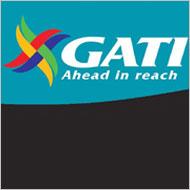 Gati Ltd, a leading domestic logistics and supply chain solutions firm, is likely to sell its shipping arm Gati Coast to Coast to a global shipping player. Talks are in the final stage.
According to sources, the deal could be closed at Rs. 200-250 crore (Rs. 2-2.5 billion). Gati's shipping arm has revenue of about Rs. 93 crore (Rs. 930 million).
They said, the idea is to clear the company's long-pending debts, which is around Rs. 400 crore (Rs. 4 billion) currently. On Thursday, shares of Gati went up to a monthly high of Rs. 64.90 (up by 14 per cent) in morning trading and closed at Rs. 61.15, up by 7.09 per cent on BSE.
"We have decided to bring in a strategic partner for Gati Coast to Coast shipping business and talks with international players is in progress. The partner could be a significant international shipping player who can bring in equity and create value shareholders," said Mahendra Agarwal, MD.
He, however, refused to disclose whether the company will sell controlling stake in the shipping arm.
Gati Coast to Coast was set up in 1986 as a service provider for all sea-bound cargo in the Bay of Bengal, Andaman Islands and Malacca Straits.
Currently, it has six container vessels and regular liner services between Indian ports and ports in Andaman Sea, Bay of Bengal and Malacca Straits. It also runs Colombo-Tuticorin bi-weekly service.
"In the next three-four months, there will be a clear focus on how the shipping business will run. It will bring great amount of value in terms of the topline and bottomline for the business," he said.
During 2009-2010, the shipping division achieved revenue of Rs. 93.2 crore (Rs. 932 million) as against Rs. 93.5 crore (Rs. 935 million) in the previous year, recording a marginal de-growth. The profit before tax & interest decreased by 89 per cent to Rs. 2.08 crore (Rs. 20.8 million) from Rs. 19.76 crore (Rs. 197.6 million) in the previous year.
Gati's main division is express distribution and supply chain, which achieved revenue of Rs. 652 crore (Rs. 6.52 billion) last financial year. It has an overall revenue of Rs. 1,000 crore (Rs. 10 billion).
In its annual report last year, Chairman, Gati Ltd, K L Chugh said: "The economic turbulence had its biggest impact on the company's shipping business.
"With the reduction of global inventories, shipping came under pressure as global rates collapsed. The management team of the shipping division is committed to an extremely focused execution plan to bring about a turnaround on the operational front."
According to earlier reports, promoters of Gati planned to sell stake in logistics business and Dutch express distribution major TNT emerged as a potential frontrunner.