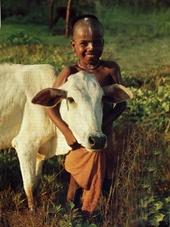 Apparel brand Gap backs natural farming to gain social and business edge, but runs into an ideological battle with proponents of organic farming.
Gap, a leading garment brand, pushes natural farming based on cow dung as opposed to organic farming based on vermicompost in a bid to gain a social and business edge.
What would make Gap, for which India is the third-largest supplier of garments, worry about is the shrinking number of cows in the country? For the company, the latest strategy of creating a social edge for its brand is natural farming, for which cow dung and cow urine are indispensable.
Gap is hoping to find enough cows for its cotton farmers. The focus on natural farming, it says, will provide relief to cotton farmers as the high cost of fertilisers is one of the reasons for their being in debt. We want to stop this by backing cotton grown through zero-budget farming, for which main input is cow manure, says Gap's Global Partnership Director Lakshmi Menon Bhatia.
Last month, the company got natural farming guru Subhash Palekar to give lessons to hundreds of farmers on use of cow dung-based manure. The less fertile the cow, the better is the manure, he says. Whip up a mixture following his recipes and let the plants grow the natural way, just like they do in the jungles, without irrigation, without fertilisers. He makes it sound easy. But farmers from Vidarbha say it is not as easy or cheap as it sounds.
"Ask Palekar why natural farming is not popular in Amravati, where he fails?" said Vijay Jeywanthia, a farmers' leader from Vidarbha.
While subsidies are available for chemical fertilisers, no subsidy is offered for raising a cow, or for fodder, says Jeywanthia. Besides, it needs labour, which is expensive, he says.
Gap is now working on tying up with the government. It has already engaged the rural development ministry to press for creating a natural farming option for farmers. It is also lining up support from other brands.
But there is a twist in the tale. Protagonists of natural farming like Palekar run down organic farming, which is done with manure created by earthworms that feed on organic waste. The criticism is on the issue of absence of humus in organic manure. Humus is a degraded organic material present in soil and helps the soil remain fertile and retain moisture.
Palekar says earthworms prevent formation of humus. They also eat up cadmium, arsenic, lead and mercury and release carbon, causing climate change and cancer.
Gap has decided to be on the side of the cow rather than the earthworm .
So, while hundreds of imported bio-feeders have many brands backing the cotton that is made using their manure, Palekar and his supporters swear by the cow. Just one cow can make 30 acres of land fertile, he says. Gap will soon reach out to suppliers through the Apparel Export Promotion Council and to other brands through the Brands Ethics Working Group of the garment industry.
But worms are much ahead in the race and, in 2007-08, global organic cotton production increased by 152 per cent, according to ECOCERT, a certifying agency for organic products. India is the second-largest producer after Syria.