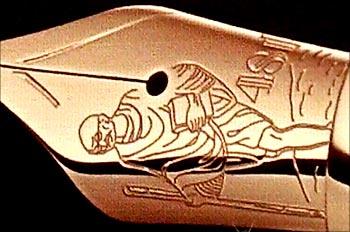 Despite giving an assurance to India's Supreme Court, Montblanc continues to sell its limited edition pens featuring Mahatma Gandhi in Dubai, the store officers said.
"We do not know about any court order but we can confirm that these pens are available in our Dubai Mall store and can be bought any time," a store supervisor told PTI.
However, Friday being an holiday in Dubai, the Montblanc office could not be reached for an official response.
The Mahatma Gandhi Limited Edition 3000 and Mahatma Gandhi Limited Edition 241 are available for for 93,500 dirhams (Rs 1,161,145.2) and 13,800 dirhams (Rs 171,347.5) respectively.
The store supervisor said that they were unaware of the reports seeking stopping of the sale of these pens.
India's Supreme Court on May 3 accepted the luxury giant's assurance that it would stop selling the pens after the Solicitor General issued a notification that the name or image of Mahatma Gandhi could not be used for commercial purposes.