GAIL has been an underperformer on the bourses, with the stock losing about 15 per cent over two months. While falling gas transmission volumes, after the production decline from Reliance's KG- D6 field, continues to be a reason, the Petroleum and Natural Gas Regulatory Board (PNGRB) recommendation to cut the rate for liquefied petroleum gas (LPG) has added to its woes.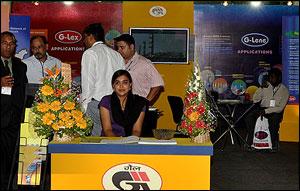 Concerns grew after the Rangarajan committee recommended a rise in administered pricing mechanism (APM) prices to $8 per million British thermal units (mBtu), up from $4.2 per mBtu now.
As GAIL consumes about seven million standard cubic metres a day (mscmd) for internal use, the company should either get some respite from the government in terms of reduction in subsidy outgo or be allocated cheap APM gas, the details of which are not clear.
Moving forward, while GAIL's transmission volumes might have bottomed out, a bounce-back is not in sight. Though GAIL managed to bring the LPG transmission segment out of the red in the December 2012 quarter, its margins are very low. In such a case, upside triggers on the stock are missing. While stock prices might seem to have bottomed, we will have to wait for a positive development on the above fronts for an improvement in returns.
Transmission volumes
Natural gas transmission volumes during the December '12 quarter declined to 105 mscmd (down 12 per cent year-on-year and one per cent sequentially), marking a fourth successive quarter of volume decline. While some believe KG-D6 production to have stabilised at 18-20 mscmd, a further decline could be detrimental. Analysts at Antique Stock Broking believe KG-D6 volumes below 17.5 mscmd will directly reduce the natural gas available to GAIL for LPG extraction; the latter supplies are second in priority to the fertiliser sector.
A bright spot comes from the new transmission capacities in the form of the recently commissioned Dabhol Terminal, the ready-to-be commissioned Kochi, and soon-to-be expanded Hazira LNG (liquefied natural gas) terminal. However, the Tamil Nadu government refused permission to proceed with the project to link the Kochi gas terminal with Bangalore through seven districts of the state. Nonetheless, these commissioned or to-be-commissioned terminals lend analysts at Citi to believe GAIL's overall volumes might at last be bottoming out.
LNG transmission, margins
The segment had reported losses in the September 2012 quarter due to rate cuts by PNGRB and a one-time charge of Rs 120 crore. However, GAIL was able to bring it out of the red in the December quarter. Nevertheless, earnings before interest and tax (Ebit) declined 83 per cent over the December 2011 quarter, primarily due to lower rates and because volumes at the Jamnagar-Loni pipeline were lower.
PNGRB had recently suggested uniform marketing margins of nine cents per mBtu. Analysts at Nomura observe this is the same as the marketing margin decided by the petroleum ministry for APM marketing in June 2010. The suggested margin is lower than the current marketing margins of 13.5 cents/mBtu for APM gas and 16-18 cents/mBtu for other domestic gas.
APM gas recommendation
The Rangarajan committee recommendations on APM gas prices at $8 per mBtu, though still to be approved by the Empowered Group of Ministers, could significantly impact GAIL. It consumes around seven mscmd internally for petchem & LPG feedstock, as well as power and fuel.
Analysts at Citi observe that as the rationale for GAIL sharing the cooking fuel subsidies is that it is allocated cheap APM gas by the government, it should either continue to be provided this or a respite in subsidy sharing. They observe their fair value could decline to Rs 340 and FY14-15 estimated earnings could decline a further six to eight per cent if gas prices are raised to $8 and there is no offset available through lower subsidies.