State-owned GAIL India Ltd is interested in buying stake in Russia's planned 10 million tonne LNG plant at Vladivostok on the Pacific coast and import natural gas from the $7 billion project to meet nation's growing energy needs.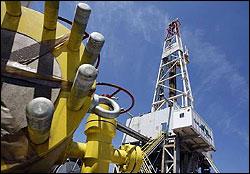 Russia's gas monopoly Gazprom plans to start output of liquefied natural gas at the planned project near the Russian far eastern city of Vladivostok in 2016 or 2017.
The company plans to build a pipeline from the Chayanda gas field in East Siberia to the proposed Vladivostok LNG facility.
GAIL's interest in the LNG terminal was flagged during the two-day visit of Russian Deputy Prime Minister Dmitry Rogozin last month, sources privy to the development said.
Gazprom is switching focus to LNG exports from its Far East Russian fields to South-East Asian markets. It sees growing demand from traditional gas markets such as South Korea and Japan, but also emerging giants China and India.
Sources said Gazprom's marketing and trading unit last year signed agreement with Indian firms to sell liquefied natural gas (LNG) on long-term contracts.
Gazprom Marketing & Trading Singapore signed preliminary agreements to sell as much as 7.5 million tonne a year of LNG to Petronet LNG, Gail and Gujarat State Petroleum Corp.
Sources said GAIL sees synergy in these agreements and its desire to have stake in LNG producing plant in Russia.
In return for a stake, GAIL is even willing to commit to lift up to half of the 10 million tonne a year of LNG the Vladivostok plant will produce, they said.
GAIL is seeking energy assets and supplies in nations like Russia and US to meet demand from fertiliser and power producers in the world's fastest-growing major economy after China.
Sources said GAIL may even be interested in a small stake in Gazprom-led Shtokman project in the Barents Sea and possibly in the expanded capacity at Sakhalin-2 venture.
Gazprom is looking at expanding the 9.6 million tonne-a- year Sakhalin plant north of Japan.
Last December, GAIL became the first Asian buyer of US natural gas when it signed a 20-year deal to buy 3.5 million tonne LNG a year from Cheniere Energy Partners LP, which is planning the first US export terminal.