After showing their displeasure over blocking of websites by the government by breaking into official websites of various government and private organisations, hacking group 'Anonymous' is now taking to the streets to protest against the move.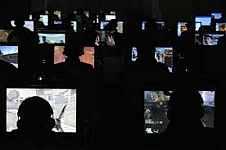 The hacker group is now planning to hold peaceful protests across the country on June 9. The group has called upon people to join the protest and has posted details of the same on Facebook and Twitter.

Cities like Mumbai, Indore, Kolkata, Chandigarh, Calicut, Cochin, Bangalore and Hyderabad among others have featured on the group's tweets as locations for the peaceful protests. The group has also posted directives for a peaceful demonstration on their Twitter page.

The statement reads: "People of India, it is high time you all realised that you need to take the action if your country needs to be saved. So, here is your chance. On June 9, we are conducting a nation-wide protest at multiple cities in India. Join us."

This is going to be a non-violent protest by all means. "So, as there can be cases of this (the protest) failing, or external groups trying to disrupt our operation using violence, we are hereby issuing the following
directives so that you can be safe," the group added.
With Indian ISPs blocking video-sharing and music-sharing sites, hacker groups are upping their ante against Indian websites. From private to government websites, the hackers are not leaving any stone unturned to mark their protests against the recent government's decision to block certain websites.
The threat is so prominent that the Computer Emergency Response Team India (CERT-In) has now come out with a warning to the government and private organisations about the threat from the hackers. When contacted, Cert-In officials said there was no direct link between the recent hacktivism and the advisory issued by them.
"It is observed that some hacker groups are launching distributed denial of service  attacks on websites of government and private organisations in India. The attacks may be targeted against different websites of reputed organisations," CERT-In, the national nodal agency for responding to computer security incidents, said in an advisory note posted on its website.
Earlier this month, access to file-sharing websites, like ThePirateBay and Vimeo was blocked by Indian ISPs. In protest, 'Anonymous' have hacked into a number of websites, including the official websites of the SC, BJP and Reliance.