Over the past year, the number of start-up job seekers with more than 10 years of experience has grown more than 20 per cent.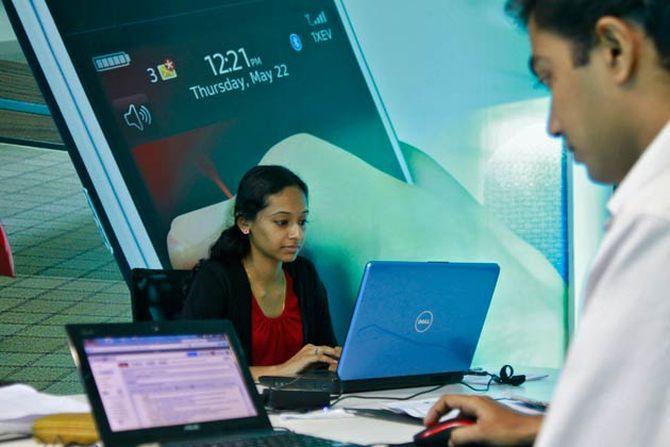 Salaries offered by start-ups in India have risen by as much as 42 per cent over a year ago, thanks to a dearth of talent, especially at the entry level, shows a study by online hiring firm Hiree.
The study, conducted in October this year, shows that while salaries of fresh recruits (with experience of up to three years) have increased 42 per cent, those for individuals with experience of three to five years are up 40 per cent over a year earlier.
The rise for employees with experience of five to 15 years has been 26 per cent to 32 per cent.
The lowest rate of increase — of 21 per cent — is seen in the pay of those with more than 15 years of experience, primarily due to high base effect.
The study also shows that e-commerce companies are now ready to shell out Rs 15-20 lakh — about 30 per cent higher than last year's Rs 10-15 lakh — to hire from a premier college a fresh candidate for the technology or product segment.
Interestingly, there is also the indication of a greater acceptance of start-up jobs.
Over the past year, the number of start-up job seekers with more than 10 years of experience has grown more than 20 per cent.
While experts are unanimous on the reasons for a salary spike — abundance of capital and a need to grow faster — they are also predicting this trend to be a short one. "This is a short-term aberration," says Tarun Matta, founder & chief executive at IIMJobs, an online hiring portal.
Fresher salaries peak as startups look for young talent: study The salary zoom is primarily driven by e-commerce, a segment where there is a clear demand-supply mismatch.
Since companies in e-commerce, a relatively new area in the country, are scaling up very fast, a lot of employment opportunities are also opened up. Besides, some 1,200 start-ups were founded in 2015 alone.
Of these, a third – twice as many as last year — have already received funding. Indian start-ups have this year received a total investment of over $5 billion, more than twice the $2.2 billion they did in 2014, shows a report by Nasscom. Start-ups mostly look for younger resources.
And, a lack of experienced young people with exposure to product development has increased demand for them.
"Most fresh recruits today don't have the 'in-demand' skills like mobile tech, data sciences, machine learning, etc," says Manjunath Talwar, founder & chief executive of Hiree.
In addition to fat pay cheques, fresh hires are also attracted by the proposition of building a company or a product from scratch, rather than working on benches at established companies, says Rohit Hasteer, chief human resource officer at digital real estate platform PropTiger.com and Makaan.com.
"I see a lot of candidates getting enamoured by higher salary and other offerings. That might have a negative effect on them. It is during early days that an individual learns the most," IIMJobs' Matta adds.
While app developers for the Android platform are among those in high demand, designers, product managers, data scientists and machine-learning experts are also sought after by start-ups, thanks to a rise in the number of online retailers.
"The trend is in contrast with that at big technology firms, especially in the services segment, where generic skills like standard Java, C++ and .NET are in demand," says Matta. Most experts see the current trend consolidating in two or three years.
"Right now, while there are good employment opportunities, lack of experience and standard talent have resulted in the salaries shooting up.
This will change over two-three years," says PropTiger's Hasteer.
Ruchi Mittal, the human resource head at on-demand hyper local service provider LocalOye, which has hired 200 employees in the past three months, says candidates are looking at growth opportunities in terms of learning and challenging avenues, apart from salaries.
About 120 start-ups, mostly e-commerce ones, have signed up on Hirees platform to recruit candidates who are actively seeking jobs.
"It is a good trend that start-ups are ready to offer higher salaries to get the right talent on board.
These start-ups are giving entrepreneurial exposure to fresh talent right at the start of their career. But besides being high on rewards, it is also high on risk, and that does not look sustainable for the long term," says Priya Chetty-Rajagopal, executive director (leadership and board practice), RGF Executive Research, the executive search arm of Japan-based Recruit Company.
"Colleges can pick up the right trends and train students upfront for 'in-demand' skills. That will increase supply and help reduce the demand for experienced folks," Talwar says.