Regulations ensure only postgraduates from Indian universities qualify for the job the day they clear their exams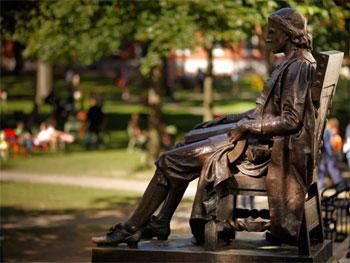 Recently, the chief executive of a financial services firm came across an unexpected restriction on his freedom to hire the best professionals he could find. "The recent regulations covering research analysts only recognise Indian universities. This means a person fresh out of Harvard can't be a research analyst here," he said.
Other financial services firms and legal sources Business Standard spoke to interpreted the new regulations similarly. They excluded not only Harvard but all the eight Ivy League institutions in the US, considered among the top universities globally. As such, Yale, Columbia, Cornell, Princeton, Brown, Dartmouth and Pennsylvania universities are all excluded.
Foreign varsities lucrative no more?
Research analyst regulations mention minimum criteria
It requires postgraduate education, professional qualification or minimum experience
Qualifications must be India-recognised, excludes those who have been educated abroad
Essentially, a fresh Indian postgraduate can start as an analyst on day one
But those educated abroad must have five years of experience
Draft regulations had allowed foreign-educated analysts
Fresh postgraduates from other top educational institutions, including the London School of Economics and the Oxford and Cambridge universities, would also fail to meet the criterion for research analysts in India. Essentially, no foreign university-educated analyst is qualified to practice in India until she/he has at least five years of experience. However, a fresher from any Indian university who meets the criteria can start on day one.
The Securities and Exchange Board of India (Sebi) research analyst regulations say an analyst must have "a professional qualification or postgraduate degree or postgraduate diploma in finance, accountancy, business management, commerce, economics, capital market, financial services or markets".
Such degrees or diplomas must be from a university recognised by the University Grants Commission or other similar bodies, including institutes associated with such a university, one which the central or state government has set up, or an autonomous institute under the Centre's administrative control. If the institute is accredited by the All India Council for Technical Education, the National Assessment and Accreditation Council or the National Board of Accreditation, it will meet the norms.
An analyst who doesn't have a postgraduate degree or professional qualification must have five years of experience in financial markets.
"Foreign universities often provide better education than Indian ones. If such a case arose, one would have to write to Sebi because a plain reading of the regulations only allows for India-educated analysts," said a senior official at a domestic brokerage firm.
Yogesh Chande, associate partner, Economic Laws Practice, said the draft regulations did allow for foreign qualifications.
"The consultation paper issued by Sebi for public comments on November 29, 2013, contained in the proposed draft regulations a provision that permitted individuals with professional qualification/postgraduate degree/postgraduate diploma provided by a university/institution/association recognised or accredited by a foreign government or recognised/accredited by any corporate/institute that has been created/recognised by such a foreign government for the purpose — qualification to act as a research analyst. However, it does not find a place in the notified regulations," said Chande.
"If a change is to be brought about in the current research analyst regulations, the Sebi board will have to notify an amendment," said Sandeep Parekh, founder of Finsec Law Advisors and former executive director, Sebi.
There might, however, be a way around it. "If a global university or an institution is affiliated with an Indian university that is recognised by, say, the University Grants Commission or another Indian authorised body, a degree/diploma from such foreign university could be seen as meeting the qualification criteria. This would help applicants with foreign degrees, as most of large foreign universities have affiliations or tie-ups in some form or the other with Indian universities," said Tejesh Chitlangi, partner, IC Legal.
An email sent to the regulator did not receive a reply.