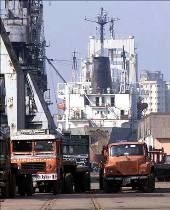 The Haldia port squabble has turned from a mere industrial dispute to a diplomatic sore point for India. In a fresh twist, Louis Dreyfus Armateurs, the French partner of ABG Ports, has sought intervention of its country's government to ensure a "safe exit" for itself from the Kolkata Port Trust premises.
Haldia Bulk Terminals, a joint venture of ABG Infralogistics and LDA, had on October 28 pulled out of 10-year contract for cargo-handling operations, blaming the political climate and "vested interest" of KoPT authorities.
The contract was for operations at berth number two and eight of the Haldia Dock Complex. The port later retaliated by blacklisting HBT and hinted at blacklisting its parent companies too.
The French Embassy in New Delhi said: "We are in contact with the Indian authorities and the state government in Kolkata, through general consulate.
When substantial investment is involved, it is natural to be in touch with governments."
"The French Embassy and the commission are jointly handling the matter," an LDA spokesperson said in response to a query.
The joint venture had exited the contract alleging law and order problems at the port. The immediate trigger for HBT to pull out of the contract that was to end in 2020 was the abduction of three of its officials and the family of an employee on October 28.
LDA is part of century-old
agribusiness giant Louis Dreyfus, popular in the global trading circles as a constituent of ABCD traders, which stands for Archer Daniels Midland, Bunge, Cargill and Louis Dreyfus.
Srinjoy Bose, a Trinamool Congress member of Parliament, is alleged to be behind making things uncomfortable for HBT. For his party chief and West Bengal Chief Minister Mamata Banerjee, this came as another Singur, where an agitation led by her had forced Tata Motors to move out of the state in 2008.
The port trust had earlier this month threatened it would not allow the company to move its equipment out. The French company has equipment worth Rs 140 crore at Haldia.
Syed Akbaruddin, spokesperson and joint secretary, ministry of external affairs, told
Business Standard
: "We have not received any information in this regard from the French Embassy yet."
Manish Jain, acting chairman, KoPT, did not respond to questions on LDA approaching the French government. The port had even initiated the process of encashing the performance guarantee of Rs 4 crore. The port is in the process of appointing a new contractor.
"We will come out with a letter of intent by December. A new firm is expected to start work on these berths by March next year," Jain said.
Among the equipment lying at the port were six cranes, 50 dumpers, 26 loaders and waybridges, a port official said on the condition of anonymity.