L Capital, the private equity (PE) arm of LVMH, the world's largest luxury goods group, has emerged the front runner to buy Lilliput's retail assets, brand and liabilities, according to three people involved in the negotiations.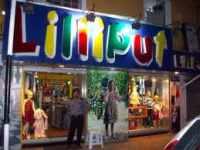 Recently, Lilliput founder Sanjeev Narula and estranged private equity investors Bain Capital and TPG had initiated a slump sale, wherein the assets, brand and liabilities would get transferred to a new company and then sold to a third party. The shareholders had roped in Avendus and Grant Thornton to advise on the sale.

With Lilliput running close to Rs 750 crore (Rs 7.5 billion) of debt, the company and Narula are finding it difficult to service it.

The legal battle between Narula and the PE investors has also ensured the route to the market for equity raising or even additional bank financing has become extremely tough.

The lenders had refused to release the sanctioned loan amount of Rs 200 crore (Rs 2 billion) because of the infighting, forcing Lilliput to meet its daily cash requirements by offering up to 30 per cent discounts at all stores. An equity infusion was becoming critical to pay back dues and manage other operating expenses.
Senior officials in the know, who did not wish to reveal their identity, told Business Standard negotiations between L Capital and a Lilliput management team had progressed the most.
"There have been four key suitors. Other than L Capital, Mahindra & Mahindra, India Value Fund (IVF) and Kohlberg Kravis Roberts & Co (KKR) had signed non-disclosure agreements to enter into negotiations to buy Lilliput. But, the L Capital negotiations are at an advanced stage. We are hoping to close the deal within a few weeks," they said.
Added another official on condition of anonymity, "Top management employees are being interviewed by L Capital and later this week, more interviews are likely with regional staff. It is still not clear if L Capital will even buy out Narula's original businesses of garment manufacturing and exports. Those negotiations are under way."
Many would, however, point at the erosion of the company's valuation. According to a source, Lilliput is currently being valued at Rs 900-950 crore (Rs 9-9.5 billion), inclusive of debt.
"If you take the debt, you will at best be left with Rs 100-200 crore (Rs 1-2 billion), which will be divided among the two shareholder groups. During the IPO last year, the company was looking at a Rs 2,400-crore (Rs 24 billion) valuation," said the source.
In April 2010, marquee PE investors Bain and TPG had together invested $86 million for 45 per cent stake in Lilliput Kidswear in April 2010. Narula owns the balance 55 per cent.
When contacted, Sanjay Gujral, L Capital, MD-India, said, "I do not wish to make any comments on the same." Lilliput's spokesperson and the existing PE investors also declined to comment. Sanjeev Narula could not be contacted despite repeated efforts.
L Capital Asia launched a $640-million fund last year targeting emerging economies, including China and India. The Asia fund is the fourth fund by L Capital, whose best known investments include Pepe Jeans, Gant and Princess Yachts.
The French fund recently picked up 8 per cent in FabIndia and had last year bought 25.5 per cent stake in India's Genesis Luxury Fashion Pvt Ltd, which distributes global luxury brands, mainly apparel and accessories.
Lilliput is the largest player in the organised kidswear market, with an estimated market share of 14.7 per cent, followed by Gini & Jony (11per cent) and Catmoss (seven per cent), according to research company IRIS Retail.
The organised kidswear market in India is estimated to be Rs 3,000 crore (Rs 30 billion), only 5.3 per cent of the overall organised apparel market, growing 25 per cent annually, according to IRIS.
Started in 1991 as a supplier to some large retailers, Lilliput forayed into direct retailing with a store in New Delhi in 2003. The company currently operates 275 stores, and employs close to 14,000 people. Its retail expansion, too, has been aggressive recently.
In the past year, Lilliput has added close to 100 stores, and redesigned its business model to go for bigger stores. Lilliput has been borrowing aggressively and added 6 lakh sq ft of retail space in two years compared to 2 lakh sq ft it added in eight years.
But, sales didn't keep pace with the rapid growth. And, with its IPO nowhere in sight, the ballooning debt has become a trap.
The company is still making profits at an operating level. It posted a net profit of Rs 40 crore (Rs 400 million) on revenues of Rs 565 crore (Rs 5.65 billion) in 2010-11 and has been targeting a turnover of Rs 950 crore (Rs 9.5 billion) in the year ending March 2012.