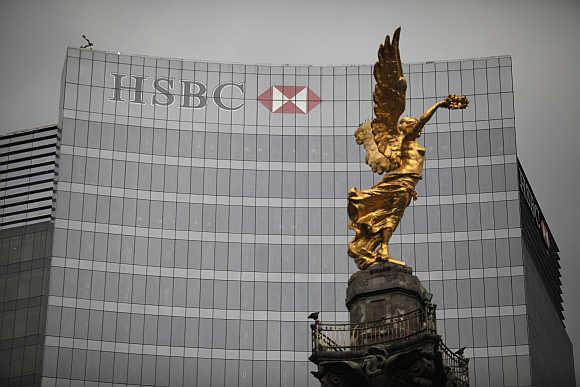 Under probe for allegedly helping Indians and others evade taxes through its Swiss banking unit, global giant HSBC has been placed under "formal criminal investigation" and asked to furnish a one billion euro bail in France for alleged tax-related offences.
The bank, however, said the French magistrates' decision was "without legal basis" and it would appeal against it.
In a brief statement, the bank said it "has been placed under formal criminal investigation by the French magistrates in connection with the conduct of HSBC's Swiss Private Bank in 2006 and 2007 for alleged tax-related offences. A one billion euro bail was imposed."
"HSBC Holdings plc believes the French magistrates' decision is without legal basis and the bail is unwarranted and excessive. It intends to appeal and will defend itself vigorously in any future proceedings," it added.
Facing a multi-nation probe for "alleged tax evasion, money laundering and unlawful cross-border banking solicitation", HSBC has also been served summons by the Indian tax department.
Besides, Swiss police in February searched HSBC offices in Geneva as part of its probe into "suspected money laundering" by the banking giant, which has been in news for a leaked list of its account holders that included 1,195 Indian names.
The bank came under the scanner after a global expose by a grouping of investigative journalists disclosed details of over one lakh account holders in HSBC Geneva branch.
This included 1,195 Indian names, including those of big corporates and political leaders. The leak prompted authorities in India and many other countries to launch their investigations to ascertain whether these accounts had illicit money stashed abroad.
The bank later said it was being probed by tax authorities in many other countries with regard to alleged irregularities by its Swiss banking unit and there could be "significant" amounts of fines, penalties and/or forfeitures.
In its annual report for 2014, HSBC said it is cooperating with the relevant authorities, while adding that it was possible that other tax administration, regulatory or law enforcement authorities will also initiate or enlarge similar investigations or regulatory proceedings.
The bank was informed in February that French magistrates were of the view that they have completed their investigation with respect to HSBC Swiss Private Bank and had referred the matter to the public prosecutor for "a recommendation on any potential charges to be brought, whilst reserving the right to continue investigating other conduct at HSBC".
The Swiss prosecutors were also probing HSBC Private Bank as well as unknown persons for "suspected aggravated money laundering" activities.
The leaked list expose claimed that HSBC's Swiss private banking arm aided customers, spread across more than 200 countries, to evade taxes on amounts worth over $119 billion.
Names of businessmen, celebrities and political figures, among others, are part of the leaked list.
The list has 1,668 Indians, while the number of actionable cases stands at 1,195 after taking into account duplication and some other factors. Collectively, these accounts had a balance of $4.1 billion (Rs 25,420 crore) till 2007.
However, all of those accounts may not necessarily have had illicit funds.
Among Indian names, 51 per cent have a Indian passport or nationality, while the remaining accounts were either linked to offshore companies, or were 'numbered' accounts.
Earlier, India had received from France a list of over 628 Indians with account in HSBC's Geneva branch. That list was also part of the larger 'HSBC list', which a former bank employee had "secreted away" to the French government.
Switzerland, long known as a place with unbreakable banking secrecy, has come under intense global pressure, including from India, to crack down on illicit fund flows.
Armed with information received about its citizens holding secret accounts in Swiss banks, India has been seeking details from Switzerland, but most of these requests were being stonewalled by the European nation on the ground of those being based on stolen data.
Consequently, India has now changed its strategy and has decided to seek details on the basis of additional evidence collected by it on suspected cases of black money stashed in Swiss banks.