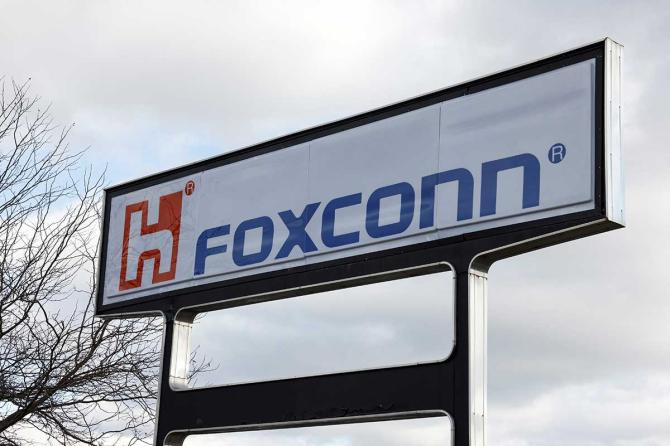 Last fortnight, Foxconn Technology group, the world's largest electronics manufacturing services player, was caught in the middle of a controversy.
The fiercely competitive governments of Telangana and Karnataka nearly simultaneously claimed that the Taiwanese giant had signed up to make big investments in their respective states to manufacture electronics, which would generate over 100,000 jobs in each state.
The Taiwanese company added to the fire by saying that no 'definitive agreements' for fresh investments had been signed.
The next day, it walked back that statement by sending letters to both chief ministers saying it was committed to the agreements that it had signed with the two states, which included investing in a new Apple Inc plant in Karnataka, an electric vehicles plant and an electronics manufacturing services facility.
This drama, though avoidable, reflected the fact that Foxconn means serious business in India. Its delegation to India was led by its Chairman Young Liu who met Prime Minister Narendra Modi.
With over 65 per cent of its production base in China, Foxconn is also China's largest private sector employer and exporter.
But like its biggest customer Apple Inc, it also wants to hedge its bets. Especially as it makes forays into newer areas -- white-label electric cars and semiconductors.
For Foxconn, this is an opportune moment to diversify manufacturing locations.
Last year, its Zhengzhou factory in China faced labour unrest due to stringent Covid restrictions that disrupted production and adversely impacted Apple's revenues.
That experience underlined the need for alternative assembly units in other countries.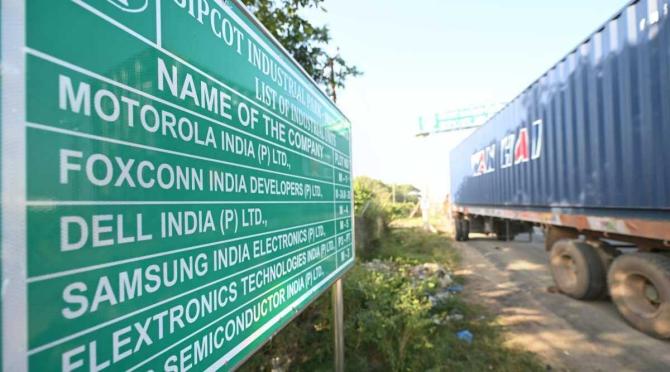 But it's a tightrope walk politically.
Liu downplayed the risks in China in an analysts' call in November last year and made it clear that its biggest investment would remain in China alongside factories in Vietnam, India and Mexico.
In its meetings with senior central government officials in New Delhi, Foxconn clearly laid out its ambitions for India.
One, although it has a joint venture with Vedanta to set up a semiconductor plant, it is keen to set up a second one even without government financial support.
It is already a frontrunner among three contenders to win approval for the joint venture under the government's incentive scheme.
Two, it is interested in setting up a manufacturing plant for white-label electric vehicles, but needs a customer who will build a brand and sell it in the market.
Three, it has a plan to generate more jobs. Its Apple unit employs over 35,000 blue-collar workers but with new projects and the expansion of iPhone production the numbers could go up to 200,000 in the next few years.
"Foxconn is clearly bullish about India," a senior government official said.
The official added that the company had said it buys chips worth over $40 billion annually and wants to ensure some degree of control over supplies with its own semiconductor unit. Also there is a large and growing market in India.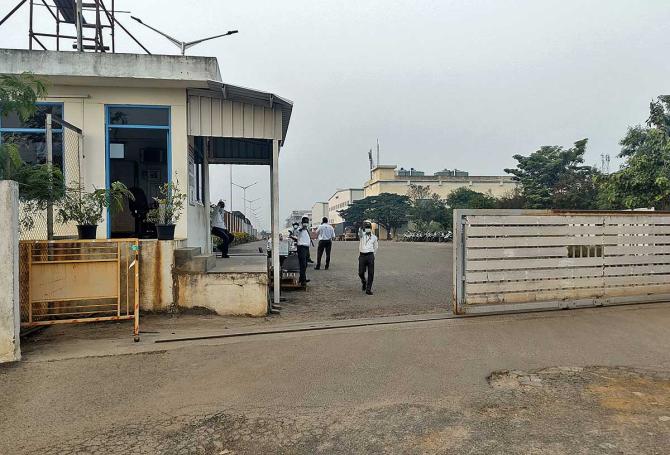 Foxconn is not new in India. It entered through Bharat FIH (earlier known as Rising Sun) in 2015.
It is now the country's the largest electronics manufacturing services player with a revenue market share of 12.4 per cent of a $20 billion market, according to a Frost & Sullivan analysis (this does not include what Foxconn Hon Hai, which assembles only Apple phones under the production-linked incentive or PLI scheme).
Dixon Technologies, the number two, is far smaller with a revenue share of 7.3 per cent.
Bharat FIH is already a big mobile devices assembler but its mandate is limited to companies other than Apple. Its top customer was Xiaomi (48 per cent of its sales) which has moved a large part of the contract to competing players.
This could impact its market share in the current year.
The company has faced some challenges in recent years. It was eligible for financial incentives under PLI, but was unable to get the benefits because it missed its sales commitments (unlike Hon Hai).
The company has also postponed its initial public offering plans because market conditions are not right, and no new date has been given even if it happens.
Detailed queries to the company did not elicit a response.
Overall, the success or otherwise of Bharat FIH forays in other PLI schemes, such as telecom and networking, will become clear only at the end of FY23, the first year of the scheme.
Foxconn's interest in setting up a semiconductor plant is undoubtedly dictated by the Covid-related shortages of last year and the emerging tensions between US and China, which could disrupt supplies at any time.
Government sources said the electronics manufacturing services major has already committed to buy back from the plant it sets up in India.
The 28 nanometre chips that the Foxconn-Vedanta JV plans to manufacture have diverse uses relevant for the Taiwanese companies own requirements as an electronics manufacturing services player and now for its foray into electric vehicles.
It has also signed up with Ather to exclusively manufacture printed circuit board assemblies for battery management systems, dashboards, peripherals and drive controller modules for its scooters.
Electronics manufacturing services for electric vehicles components is a potentially large market of around Rs 9,200 crore (Rs 92 billion) by FY26 according to Frost & Sullivan. But Foxconn's entry into manufacturing electric vehicles could be trickier.
As a white-label manufacturer it will need to sign agreements with auto players, non-auto majors or start-ups who want to brand and sell them.
"And while the model is not limited to cars (it is making cars for Fiskers for the US market), it is also building pick-up trucks and tractors, to find such partners in India might not be easy," the CEO of a car company pointed out.
But with two states competing for Foxconn's investment dollars, it's spoiled for choice in other areas right now.
Feature Presentation: Ashish Narsale/Rediff.com