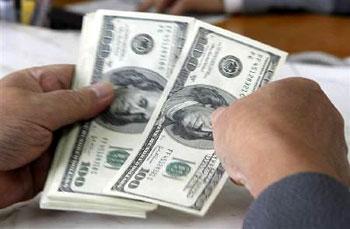 After rising for consecutive weeks, India's foreign exchange reserves marginally declined by $286.3 million to $337.793 billion in the week to March 6 despite a rise in foreign currency assets (FCAs).
In the previous week, the reserves touched a life-time high of $338.079 billion, an increase of $3.886 billion over the last week.
The FCAs, a major constituent of overall reserves, increased by $122.4 million to $312.322 billion in the week ended March 6, the Reserve Bank data showed.
The FCAs, expressed in dollar terms, include the effect of appreciation and depreciation of non-US currencies such as the euro, pound and yen, held in the reserves.
The country's gold reserves, which was unchanged for past many weeks, declined by $346.2 million to $19.837 billion for the reporting week.
The special drawing rights decreased by $44.6 million to $4.021 billion, and the nation's reserve position with the International Monetary Fund also dipped by $17.9 million to $1.612 billion during the reporting week, the data showed.