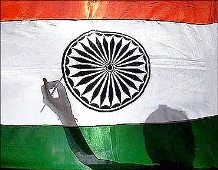 Asserting that foreign investors are convinced about growth potential here, global ratings major Fitch's Indian unit chief says that much of the investments would start pouring in after general elections.

"There are some investors already setting up plants here and putting money in other businesses, although there are some who have pulled back and are waiting on wings," Fitch Group's Indian unit India Ratings' CEO and Managing Director Atul Joshi said.

"These investors want to see how the reforms unfold in coming months.

"But most of the investors are saying that once the elections are over, we will come in.

"The questions are only about the timing of investment, and not about the investment as such," Joshi told PTI in an interview in New Delhi.

General elections are scheduled to be held sometime in the first half of 2014.

He further said that most of the foreign investors are convinced about the growth potential available in India and they have taken a decision to invest in India.

"That is a done deal, what they are questioning is whether this is the right time to come in, or should they wait for 12 months or 18 months and then come in," the India Ratings chief said.

"These are the questions right now before most of the overseas entities planning investments in manufacturing and services sectors," he said.

It is being debated for many months now as to whether foreign companies are not opting for India due to lack of economic reforms and uncertainty over policy matters.

Joshi, however, ruled out any large scale exit of foreign investors from the country.

"If one was to simply go by the FII inflows in the last two months, the money is coming in big time.

"So, I don't think that foreign institutional investors are not convinced about our growth prospects," he said.

Joshi said that various estimates put India's economic growth rate for the next fiscal in the range of 6-6.5 per cent, while Fitch also sees it about 6.1
per cent.
"People are still talking about economic growth, that too for an economy size of $1.8 trillion which is huge by any standards.
"If you look at any of the luxury brands from across the world, the destination is India. Who's who of the world, be it in businesses like automobile, consumer goods, luxury products, private jets, they all are coming to India as the demand is very strong here," Joshi said.
The India Ratings chief said that the trends on FDI front have been a mixed bag, but outlook remains bright there too except for some existing uncertainties.
"There are two kinds of investors right now. One set is getting in already as they have accepted that this is how it is in India, be it about the work culture, approval processes etc.
"These investors have taken a call that this is the way things work in India and they would figure it as they go along, but they have decided to still go in and invest.
"At the same time, there is another set of investors who are saying that they do not want to take any chances.
"They are ready to wait for 12 months or 18 months and let the things be sorted out and then they want to come in.
"So between the two, we have two kinds of investors, one which is coming in and putting in their money, and the another which is deferring the investment plans.
"But nobody is saying they would not come to India," he said.
About global markets, Joshi said that US might see some temporary slowdown due to expenditure cuts, but at the same time the employment has started looking up there.
"If you look at US banks, some of them have been able to perform better and they have been able to recoup from the worst levels they saw around 2008.
"In the Europe, the problems are not entirely over as yet, but somehow ECB (European Central Bank) has been able to restore confidence. So, we are seeing the investor confidence somehow returning in the US and Europe, whether it will stay or not that we need to wait and watch.
"Overall, the underlying tone has been about some sort of recovery in the global economy," Joshi said.
© Copyright 2021 PTI. All rights reserved. Republication or redistribution of PTI content, including by framing or similar means, is expressly prohibited without the prior written consent.