US car maker Ford on Thursday said it will introduce eight new products in India by 2015 in a bid to tap the burgeoning domestic car market.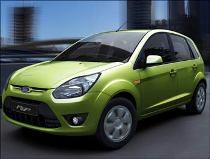 "India is a key market for Ford and we have big plans for the country and this region. The company will introduce eight new vehicles in India from the global platform, in segments appropriate for this market," Ford Asia Pacific and Africa (APA) President Joe Hinrichs said at the Society of Indian Automobile Manufacturers (SIAM) summit.
Introduction of the new vehicles is a part of the company's plan to bring more products from its global portfolio and other APA markets, he added.
Ford had earlier this year introduced a small car 'Figo' which registered a sales of over 30,000 units within the first 25 weeks after the launch.
Talking about the export plans, Hinrichs said, "Although the vast majority of vehicles produced in India will help satisfy growing local demand, we also continue to pursue export opportunities. From next year we will start exporting 10,000 units of India made Figo."
The company will export the Figo to 50 new markets, including Mexico, UAE and some North African countries.
From May this year the company had started exporting Figo to South Africa. Talking about its operations in the APA region, Hinrichs said the region currently contributes 40 per cent to its global sales and is expected to account for 70 per cent in the next decade.
On localisation of components Hinrichs said it has recently added 30 new suppliers from India and going forward the number will go up.