Gaining membership to the billionaire wives' club is no easy feat. Today, there are just 110 eligible 10-figure bachelors, including divorced men, in the world. So what does it take to marry one? Our list of billionaire wives outlines a few tips--from some of the more notable women who tied the knot with these men.
For starters, looks are great--but brains are even better. Take, for example, the women who recently nabbed two of the world's most eligible bachelors, Google cofounders Sergey Brin and Larry Page. Blonde beauty Lucy Southworth, who married Page in December, is a biomedical informatics doctoral student at Stanford University, where both Page and Brin studied as graduate students before leaving to start their company in 1998.
Earlier in 2007, Brin married longtime girlfriend Ann Wojcicki, who he met when he sublet a garage from Wojcicki's sister. A Yale graduate who was working as a health care analyst when they met, Wojcicki has since launched her own biotech startup, 23and me.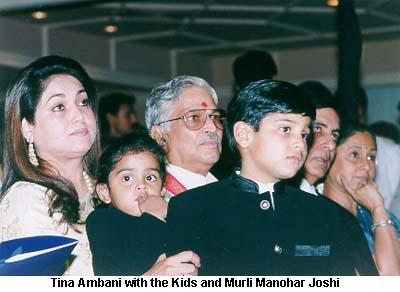 Being famous of your own accord is often a plus. Industrialist Anil Ambani's wife Tina Munim was a famed Bollywood actress before marrying Ambani. Her career began when she appeared in the 1978 Indian blockbuster Des Pardes; she subsequently starred in 30 more films.
Usha Mittal, married to Lakshmi Mittal, the world's fourth-richest man since he was 21, has clearly earned his trust. Last year, his steel company, ArcelorMittal, passed a resolution that entrusted her with temporary responsibility of managing the world's largest steel company if the managing board of directors is permanently absent or prevented from handling duties.
Diane von Furstenberg was a premiere name in fashion long before she married media mogul Barry Diller. Her signature wrap dresses have been featured at New York's Metropolitan museum.
Movie actress Kate Capshaw starred in Indiana Jones and the Temple of Doom; that's how she got to know her future husband, director Steven Spielberg.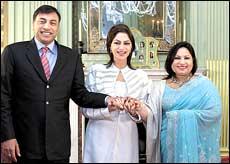 Which brings up another point: The office, or in Capshaw's case, the movie set, is still a good place to meet a future husband. Wendi Deng met News Corp. Chairman Rupert Murdoch while working as a vice president at the company's Star TV.
Melinda Gates worked as a manager at Microsoft when she met the company's founder, Bill Gates. These days, the couple lead the Bill and Melinda Gates Foundation, which made over $2 billion in grants last year. The pair and U2's Bono were collectively named 2005's Time Person of the Year.
Sometimes working in the same industry can do the trick. Citadel hedge fund chief Kenneth Griffin is married to Anne Dias Griffin, who heads her own firm, Aragon Global Management, where she oversees $160 million in assets.
Not interested in finance or technology or some other popular billionaire industry? Don't fret. Susan Dell, wife of tech tycoon Michael Dell, is chairman of Phi, a cutting-edge fashion label that has had runway shows in New York and has been featured in Vogue. She is also a triathalete who competed in the 2003 Ironman competition, and she heads up the Dell philanthropic foundation.
For many the idea of marrying a billionaire is the stuff of fantasies, but for romance novelist Melanie Craft, marrying a billionaire is a reality. In Craft's case, it is also became the plot of one of her books, Man Trouble, which featured a romance novelist trying to win over a playboy billionaire. The book was apparently written while she was dating Oracle Chief Executive Larry Ellison, and published soon after they wed.