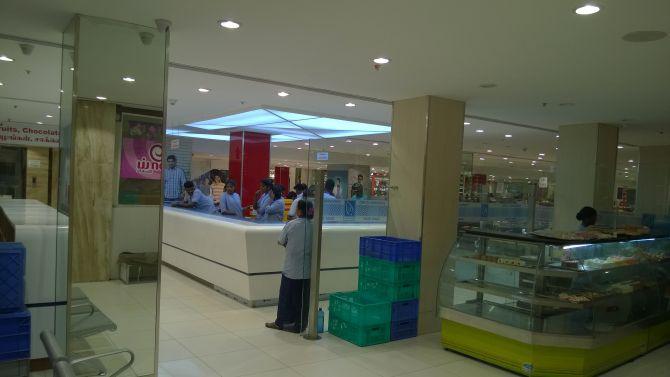 IMAGE: Hardly any customers at the retailer Saravana Stores in Chennai. All photographs: A Ganesh Nadar.
'My turnover is in crores. I am not going to sit down with IT officials, explaining where I got the notes from.'
'I would rather wait a few days for business to come back to normal.'
Rediff.com's A Ganesh Nadar reports from Chennai.
My maid was upset that the Rs 3,000 she had was invalid as she does not have a bank account. Luckily, her daughter has an account and will encash it for her.
My grocer did not seem worried about the ban and he happily accepted Rs 500 from me. "I will put it in the bank after two days, no problem," he said. This facility, he added, was extended only to regular customers, and not strangers.
Omserma Enterprises, the biggest hardware store in Thiruvanmiyur, Chennai, was empty at 11 am. This shop is usually very crowded at this time. Store managers have stopped accepting Rs 500 and Rs 1,000 notes and business as a consequence was dull. The owner was sure things would return to normal in a few days.
Another hardware shop in the vicinity accepted the higher denomination notes with a rider, "If you buy goods with higher denomination notes, I am not returning change. If you insist on change you have to come back next week." In lieu of change he was giving small IOU chits.
An Ola cab driver I hired told me, "The newspapers say all petrol bunks have to accept Rs 500 notes, but half of them are refusing and there is nothing we can do to them. Business is certainly dull today as we are getting less calls."
Ranganathan Street in T Nagar, Chennai, is the most crowded street in the city. On Wednesday, the road was deserted.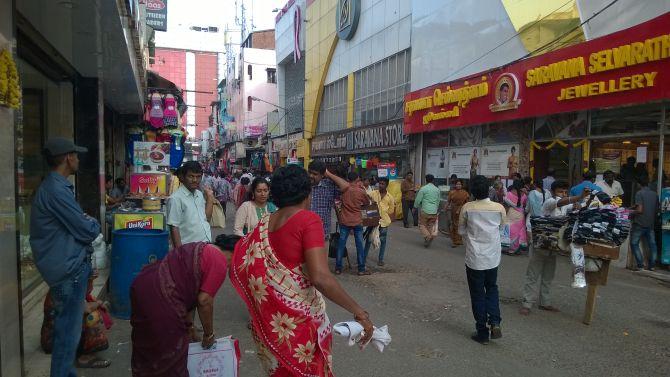 IMAGE: The normally bustling Ranganathan Street had fewer crowds.
Saravana Stores is the biggest family owned retailer in the country.
S Rajarathinam, its founder, was watching television in his office. Normally he is on the shop floor. "There is no business today, so I am sitting here," he said.
Rajarathinam was not worried about the previous day's collection in high denomination notes. "All our billing is computerised and everything is accounted for. Once the banks open, we will deposit the money," he said.
30 per cent of his business, he added, now operates on debit and credit cards and that was the only business today. "It will take more than a week for the market to pick up," the pioneering retailer felt.
"Even after the banks open, people cannot withdraw enough money for shopping. As far as retail business goes, the rest of the month is finished."
Once the currency shortage ends, he expects business to return to normal. "It is a good step to unearth black money, those who do business without bills will certainly be affected," he said.
Sathya Agencies has more than 50 outlets in Tamil Nadu selling fast moving consumer goods. "Business is very dull today," owner S Jonson said, expressing a sentiment likely heard at retailers all over the country. "I expect it to pick up in another five days."
"Next month business will be very good, we just have to be patient," he added.
A customer at Saravana Stores asked a salesman, "Why can't you accept Rs 1,000 notes? You can put it in the bank after two days."
"We have been told not to accept those notes, so please put the money in the bank after two days," the salesman replied.
When told that small traders were still accepting high denomination notes, a large retailer, who did not wish to be named for this report, said, "You can do that when you sell for a few thousand rupees a day, my turnover is in crores. I am not going to sit down with IT officials, explaining where I got the notes from. I would rather wait a few days for business to come back to normal."
Fisherwomen were giving regular customers who had no money to pay credit. "The fish will go bad and so we have to sell," one fisherwoman said.
In Chennai, it seems retailers, small traders, labourers have been hardest hit by the demonetisation.