India's climate change goals are turning combustible. On the one hand, a protracted dispute between the government and manufacturers over subsidies threatens to slow the pace of electric vehicle (EV) sales.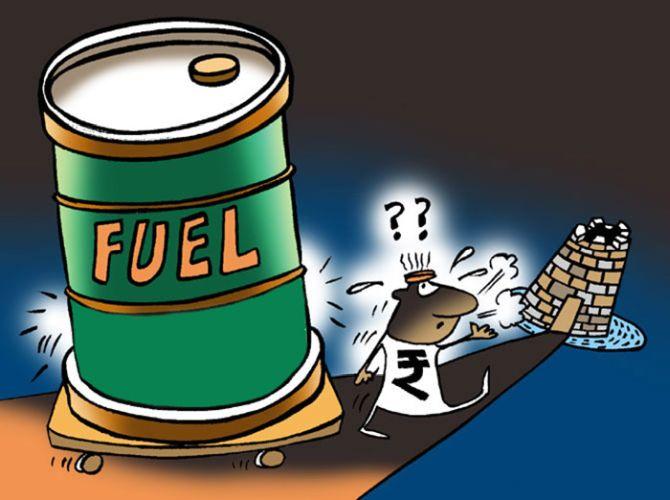 On the other hand, repeated assertions by different arms of the government over banning sales of new fossil fuel-fired vehicles have queered the pitch for energy investments.
Before we address the issue of the recommended diesel vehicle ban in the recent report on energy transition, issued months before the next round of global climate talks begin in Dubai in November, let's look at what's at stake.
It is important to note, however, that the government is yet to accept the report, the oil ministry clarified in a tweet on May 8.
Consultations with various stakeholders on the report are yet to be initiated.
Diesel in India is a $60-billion business — excluding transport costs, taxes, margins and levies — based on the oil ministry's $94 a barrel diesel price for April.
A record 86 million tonnes of the fuel was sold in FY23.
At last count, the business grew 12 per cent last financial year from a year earlier, according to oil ministry data.
In other words, the business is booming, with the future for the fuel looking exceedingly bright on the back of India's 6-7 per cent economic growth.
Most Indian refineries, especially the state-run ones, are designed to produce middle distillates such as diesel and jet fuel. Indian refiners produced 114 million tonnes of diesel last financial year out of the total plant capacity of 252 million tonnes.
Demand for diesel touched an all-time high of 1.96 million barrels per day in April.
India's overall oil demand in calendar 2023 may increase by 6 per cent above 2019 levels, before rising to about 12 per cent in 2024, said J Y Lim, oil analyst at S&P Global Commodity Insights.
Murmurs of a ban on internal combustion engine (ICE) vehicles began in 2017, when transport minister Nitin Gadkari first raised the prospect of a ban on sales of new fossil-fuel fired vehicles by 2030.
This was based on a Niti Aayog policy document of the period that recommended phasing out transport fuel-based rickshaws by 2023, two-wheelers by 2025, and complete 40 per cent electrification in private transport by 2030.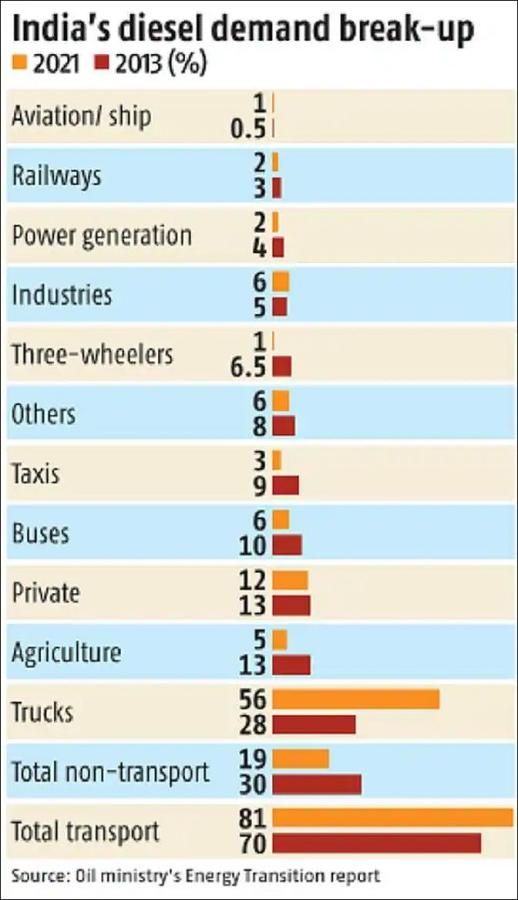 After protests by the oil ministry and automakers, which were facing slowing sales, Gadkari, in 2019, dismissed the notion of any ban.
In subsequent years, he reiterated that the government would not stop sales of ICE vehicles, but will encourage adoption of EVs, and the use of alternative fuels like ethanol, bio-LNG and green hydrogen.
But the new energy transition policy document, prepared by a top level committee, discusses a ban again.
"Diesel-driven four-wheelers may be eliminated as soon as possible," said the energy transition report. "Therefore, a ban on diesel-powered four-wheelers in all million-plus cities and all towns with high pollution has to be enforced in five years, i.e, by 2027," it added.
The 328-page document was prepared by the Energy Transition Advisory Committee (ETAC), headed by Tarun Kapoor, former secretary, petroleum ministry, and an advisor in the PMO.
ETAC has among its members Subhash Kumar, ex-chairman, ONGC, and executive directors from state oil companies.
The report was ready in February, officials said, and is now on the petroleum ministry website.
ETAC also suggested that by 2030, city buses, which are not electric, should not be added and diesel buses for city transport should not be added from 2024 onwards.
Long-distance buses will have to be a mixture of electric with battery swapping and CNG/LNG, and delivery vehicles in cities to be only electric from next year onwards.
These recommendations came even as demand for diesel rose 8.6 per cent in April from a year earlier, and gasoline use rose by 3 per cent during the period.
Of greater concern is the fact that the bulk of recommendations on diesel relate to transportation.
The role of transport in diesel usage has grown to 81 per cent in 2021 from 70 per cent in 2013.
Trucks and buses constituted 62 per cent of diesel use in 2021 from 38 per cent in 2013.
If you throw in private transport then three-fourths of diesel demand come from these segments, which are threatened by plans for a rapid absorption of EVs into the Indian transport ecosystem (see chart).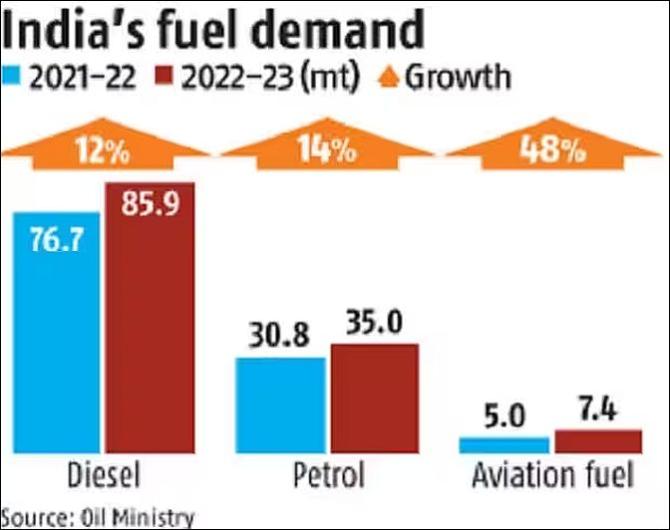 India will transition to clean fuel public transport in 10 years, the report said.
In the coming decade, 75 per cent of the city delivery vehicles can be electric in all the million-plus cities and other specific cities, and EVs may be promoted as the optimal solution to phase out ICE two- and three-wheelers by 2035.
At one place, the report says that with the agriculture and manufacturing sectors dependent heavily on road logistics, diesel demand from this sector is expected to continue its growth.
It also points to a lack of alternatives in the heavy vehicles sector.
The energy density of lithium-ion batteries and resultant weight of batteries are not conducive for heavy vehicles in long-haul applications, and the current charging times are high, which significantly reduces vehicle utilisation times.
"Given the current limitations of electric buses, the impact on diesel demand is expected to be marginal in the near term," the report said.
"For medium and heavy trucks, electrification is expected to be a more gradual trend," said Kinjal Shah, vice-president & co-group head — corporate ratings, ICRA.
"Lighter trucks would see faster adoption trends, with e-commerce and logistics players exploring e-LCVs for their requirements." ICRA expects penetration in the LCV segment to reach 4-6 per cent by financial year 2025 and 25 per cent by FY2030.
Whatever the numbers, one thing is clear: For the foreseeable future, diesel is likely to drive India's economy.