The Finance Commission has substantially increased the allocation of funds to panchayats, but a large part of it is apportioned by state governments.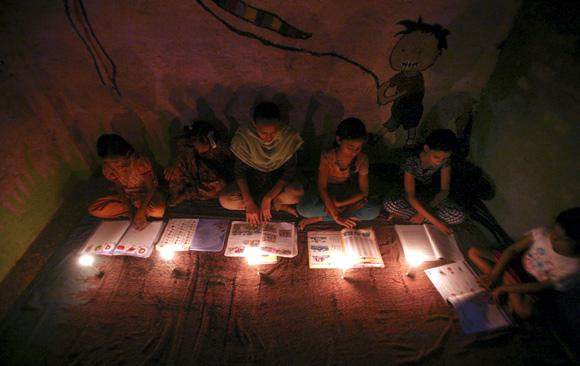 By increasing the share of states in the divisible tax pool to 42 per cent from 32 per cent earlier, the 14th Finance Commission ushered in a monumental change in the fiscal architecture of the country.

Yet, while this marks a significant step towards greater fiscal decentralisation, the devolution process has not been taken to the lowest level of governance.
The central tenet of the 73rd Amendment to the Constitution was to empower panchayats as units of self government by handing over functions carried out by state governments.
To this end, it was envisioned to provide "functional autonomy and adequate resources" to panchayats to enable them to discharge their responsibilities.
But, look closer and there is little sign that the Amendment has been implemented in spirit.
A study on Panchayati Raj Institutions (PRIs) in Karnataka by Accountability Initiative finds that the state government has systematically appropriated funds meant for PRIs.
Even central government funds that are devoluted to gram panchayats have been "re-appropriated by the state".
This has weakened the financial position of PRIs, rendering them financially incapable of carrying out their functions.
Further, the study also notes that as state administrative entities do not gather data on expenditure at the panchayat level, these entities are not even aware of the funds that are being spent in their constituencies.
This means they are not able to keep track of how the money is spent. The damage to service delivery is thus more than collateral.
The figures are quite revealing. According to the study, in 2014-15, 33 per cent of the total state budget of Karnataka (Rs 49,625 crore) ought to have been allocated for PRIs "based on the functions devolved to PRIs, as mandated by the Karnataka Panchayati Raj Act, 1993, and the activity mapping matrix approved by the state government."
But in reality, only 17.5 per cent or Rs 26,343 crore reached the panchayats.
Of the total allocation, 11 per cent or Rs 16,541 crore was appropriated by the state government, while the balance 4 per cent ( Rs 6,015 crore) was allocated to line departments.
What this means is that rather than receiving Rs 49,625 crore, PRIs ended up receiving only a fraction of the amount- Rs 26,343 crores.
Not the only one
The mismatch between allocation and actual amount received is not confined to Karnataka alone.
"This trend is visible across states. There is a huge gap between what is recommended and what actually takes place," says Pinaki Chakraborty, professor at the National Institute of Public Finance and Policy.
In fact, other states are doing even worse. In their comparison, the report says, Karnataka is "considered a trailblazer for democratic decentralisation in India" and that "the state has introduced various reforms to strengthen local governments."
Thus, while political decentralisation has taken hold in states like West Bengal and Bihar, fiscal decentralisation is still far from becoming a reality.
"State governments try not to devolve functions and functionaries to local bodies. They try to keep it with themselves as they want to remain a source of patronage and power" says Santosh Mehrotra, professor, Jawaharlal Nehru University.
"Of the 29 subjects that were supposed to be devoluted, not much has actually materialised for reasons linked to the political economy," he adds.
Of the Rs 26,343 crore received by PRIs in Karnataka in 2014-15, 60 per cent was meant for non-plan expenditure, while the balance 40 per cent was for plan expenditure.
But a whopping 78 per cent of the non-plan expenditure and about 23 per cent of the plan expenditure goes in salaries.
This means, of the Rs 26,343 crore, only Rs 8,113 crore ultimately was used by PRIs for developmental expenditure.
But here too PRIs don't seem to have the flexibility as funds are allocated under various heads by state governments tied to the "implementation of central and state schemes".
This undermines their ability to carry out meaningful development expenditure.
"Line departments of state governments carry out services which are meant to be carried out by PRIs. This is not decentralisation in real sense," says Chakraborty.
Further, state governments have even imposed restrictions on transfers from the central government.
According to the study, in 2015, the Rural Development and Panchayati Raj department issued an order mandating that 25 per cent of the Central Finance Commission grants be deposited into an ESCROW account. This is used for payment of electricity bills.
This order is in direct contradiction to the 14th Finance Commission which states that "no further conditions or directions other than those indicated by us should be imposed either by the Union or the state government for the release of funds."
So, even though the 14th Finance Commission has increased the transfers to panchayats and has recommended a rather generous transfer of Rs 2,00,292 crore over five years, up almost three times from the 13th Finance Commission, this increase in transfers is not enough to provide PRIs with the fiscal space to boost development expenditure.
"While the 14th Finance Commission has vastly increased the transfers to gram panchayats, this is not going to change fiscal decentralisation dramatically," says Chakrobarty.
While limited financial resources may have impaired the ability of PRIs to carry out their functions effectively, questions have also been raised about the capacity of these local bodies to be able to actually implement programmes efficiently.
Concerns have been raised about the leakage of funds at local level, especially in the absence of audited accounts.
Hoping to rectify this, the 14th Finance Commission recommended that proper audited accounts be prepared by PRIs. But this only addresses part of the problem.
"If you want real effective governance, one needs to significantly enhance institutional capacity at the local level," says Mehrotra.