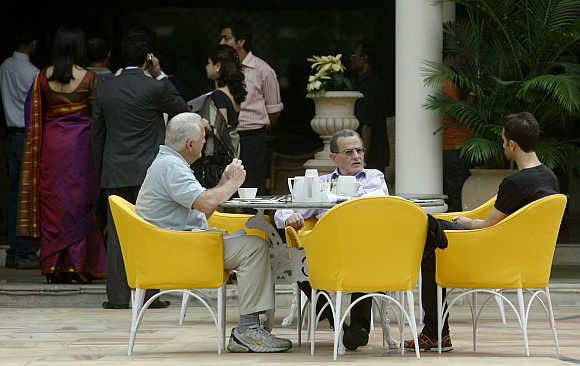 Berlin-based Rocket Internet has further validated the potential of new-age start-ups in the country, with an Indian firm featuring in its string of global announcements related to investments and acquisitions, 10 to be precise, announced on Friday.
The overall investment is estimated at more than $1 billion. Rocket Internet, which has built several start-ups and went public last year, announced moves that would lead to major consolidation in the food delivery business across several countries.
The company has acquired a 30 per cent stake in Delivery Hero, a rival of Foodpanda, for $586 million.
Rocket Internet had incubated Foodpanda dot com in Berlin in May 2012, as a global online food ordering marketplace.
Rocket is a majority stakeholder in the company. It operates across 40 countries and five continents, in partnership with 30,000 restaurants globally.
Foodpanda's Indian entity, Foodpanda dot in, was started in May 2012 and co-founded by Rohit Chadda.
On Friday, Foodpanda acquired competitors in seven Asian markets. Besides India, it bought companies in Malaysia, Singapore, Philippines, Pakistan, Hong Kong and Thailand.
These seven deals could be worth around $500 million.
The acquisitions included subsidiaries of rivals Just Eat and Food Runners. Rocket Internet did not disclose the investments made in the seven Asian companies. Following the acquisitions, Rocket has food delivery businesses in 39 countries.
In India, online food delivery marketplace Foodpanda acquired competitor Just Eat for an undisclosed amount to strengthen its leadership position in the country's food delivery market.
While the companies did not disclose the value of the deal, they said as part of it, the Just Eat team would receive a minority stake in Foodpanda.
The acquisition comes less than three months after Foodpanda acquired Pune-based competitor TastyKhana (November 2014).
Despite the acquisition, Just Eat would continue to operate as a separate brand, with some synergies with Foodpanda, Rohit Chadda, managing director of Foodpanda dot in, told Business Standard.
Currently, Foodpanda has 170 employees, while Just Eat has a team of 80.
Now, Foodpanda will be present across 200 cities, with about 12,000 partner restaurants.
The acquisition has made Foodpanda the largest player in the Indian food ordering segment, with no potential competitors as of now.
Experts have said the food delivery space is likely to see exponential growth this year.
Even as Rocket Internet has a small team in India, the German firm holds investments in several other Indian start-ups, including e-commerce portal Jabong, online furniture and home goods store FabFurnish, printing services provider Printvenue, and office supplies provider OfficeYes.
While the India team of Rocket Internet could not be reached, founders of several start-ups in which the company has invested said the German firm was bullish on the country.
"Rocket has a small team in India and is not involved in our day-to-day functioning. But we meet them around once a month, like any investor would," said Foodpanda's Chadda.
"I can't comment on Rocket Internet's vision for all their start-ups, but what I can tell you is for food, India is a very important market for both us and our investor and, therefore, we obviously get a lot of support for them.
Strategically, India is one of the most important markets that we have. So, we are very bullish."
ROCKET INTERNET INDIA'S PORTFOLIO Printvenue:
Founded in 2012, it provides printing and marketing services for small business
OfficeYes: One-stop-shop for all office needs from paper to pantry products
FabFurnish: Online store for furniture and home goods founded in 2011 Jabong: Indian e-commerce portal founded in 2010
Foodpanda: Online food ordering platform with menus of 12,000 restaurants
CupoNation*: Coupons and vouchers website founded in 2011
Easy Taxi*: Mobile-app based taxi booking start-up founded in 2012
Tripda*: Ride-sharing community for long-distance travellers founded in 2014
Wimdu*: Online house sharing platform founded in 2010
*Non-Indian start-ups with presence in India