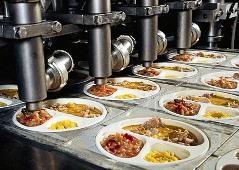 Food Processing industries minister Subodh Kant Sahai said on Tuesday the government plans to attract Rs 1 lakh crore (Rs 1 trillion) investment in the sector over the next five years from the private sector and financial institutions.
"We want to attract investments of Rs 1 lakh crore from private sector in the food processing industry. Maybe financial institutions will invest about 50 per cent in this," Sahai told reporters on the sidelines of a CII Retail Summit in New Delhi.
He also said the ministry wants to provide a fillip to the agricultural sector and reduce wastage by setting up mega food parks, cold storage chains as well as making investments in research and development and in training of personnels.
The government plans to invest up to 10 per cent in the sector and would encourage more private and foreign participation, he added. Sahai said the ministry has floated an expression of interest for setting up 30 mega food parks across India by the end of the 11th Five Year Plan (2007-2012).
"Our allocation for the 11th Five Year Plan is Rs 5,000 crore (Rs 50 billion) with a plan of setting up 30 mega food parks. We also want to set up cold storage chains to reduce rotting of agricultural produce. Ten mega food parks are already sanctioned, of which six are operational," Sahai said.
The minister said the government will finalise details of the remaining four parks within a month, while work is likely to commence in the next three months.
These 10 mega food parks will come up in Uttaranchal, Punjab, Uttar Pradesh, Jharkhand, West Bengal, Assam, Maharashtra, Andhra Pradesh, Karnataka and Tamil Nadu.
Each mega food park requires an investment of approximately Rs 100 crore (Rs 1 billion).
The government plans to fund 50 per cent of the expenditure, while it would seek private investment for the rest. Sahai said there was immense scope for development of this industry in India as only 10 per cent of the agricultural produce is sent for processing. The government expects this figure to rise to 18 per cent by 2015.
The international benchmark for farm produce getting processed is 60 per cent. "We need to amend the Agricultural Produce Market Committee Act and allow retailers to go to the farmers.
"About 40 per cent of the agricultural produce in India rots because we don't have proper infrastructure in place," Sahai said.
The minister added that discussions are going on with various state APMC's to bring about amendments in the Act and facilitate a link between farmers and retailers.