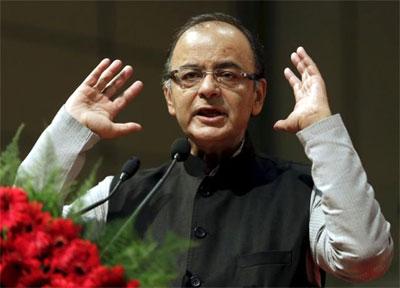 Confident of utilising the headroom available to the Indian economy, Finance Minister Arun Jaitley on Thursday said it needs some additional growth engines and the focus now is on reviving private investments.
Inviting foreign players to invest in the infrastructure space, he exuded confidence that the stuck reform measures like Goods and Services Tax would go through as the numbers in the Upper House will change favourably soon.
No reform proposal has actually got stuck for long so far despite India being a 'noisy democracy', he said.
Jaitley was speaking at a breakfast session on 'India -- The next growth engine of the world', organised by industry body Confederation of Indian Industry and consultancy BCG in Davos on the sidelines of the WEF Annual Meeting.
"We have a very noisy democracy. . . But I am finding that there are more people who want to support the growth and the others are very minuscule minority. . . Any economy needs multiple engines of growth," he said.
"In the past we had fewer such engines and we need a few more.
"Public investment is one that we are doing.
"We are concentrating on infrastructure and for the first time in history we have been able to rationalise the subsidies," the Finance Minister added.
According to him, people are eventually going to pay for the goods and services they want to buy and for the weaker sections technology would be used to ensure that the benefits reach the right target group.
Noting that a series of reform measures are pending, Jaitley said some of these become symbol of whether India would be able to cross this obstacle or not.
"India is a noisy democracy but I am sure that we would be able to get all of them through.
"Some measures have got delayed but none of them have actually hit a complete road block," he added.
In days to come India will have to focus on reviving private investments, Jaitley said, adding, "we are asking people from all over the world to become partners in India's infrastructure growth story".
"I have always said the current rate of 7-7.5 per cent is not our real potential and we have potential to add 1-1.5 per cent.
"There is still head space that we have and I am sure we would be able to reach that," he said.
Image: Finance Minister Arun Jaitley; Photograph: Reuters