Demand for fast-moving consumer goods (FMCG) fell in April owing to lower stocking by kiranas, according to the data from Bizom.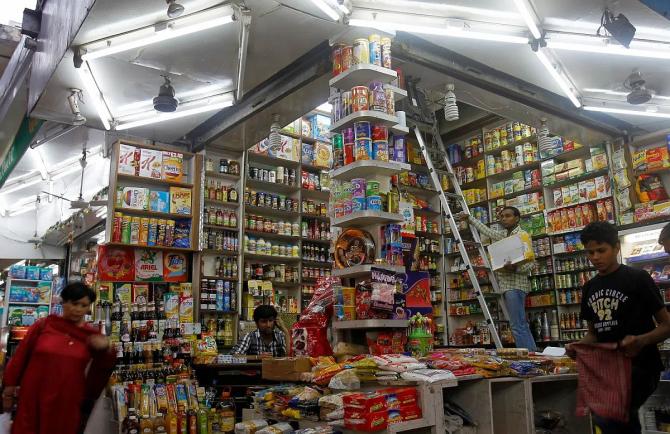 Kiranas stocked lower quantities in April as they resorted to heavy stocking in March.
Sales in value terms were down 8.4 per cent in the month as against the same period last year while on a month-on-month basis, they declined 17 per cent.
Urban areas witnessed a sharper decline, 10.2 per cent, in April compared to the same month last year while rural areas saw a fall of 7.6 per cent.
Home care was the only category that saw growth, 11.2 per cent, on a year-on year basis in April.
However, it was down sequentially by 20.9 per cent.
Beverages saw the sharpest decline at 26.2 per cent in April compared to last year.
"FMCG sales got hit in both urban and rural, with a stronger impact in urban megacities and tier-3 cities affecting sales," Akshay D'Souza, chief of growth and insights at Bizom, told Business Standard.
He said lower stocks at kiranas in the month were due to their over-stocking in March and owing to the dumping of stocks at the end of last financial year.
Personal care and packaged foods have seen a steep drop in April, D'Souza noted.
"Currently, we're in peak season for beverage sales and there was a notable drop in such sales in April.
"With competitive intensity in this category increasing, there seems to be limited room for price-led intervention and, coupled with rain across the country bringing down temperatures, we're seeing that consumption is significantly lower than at the same time last year and this is impacting sales," D'Souza said.
In their quarterly results, most FMCG companies noted demand in rural areas, which was under pressure, saw an improvement during the quarter.
Mayank Shah, senior category head at Parle Products, said demand had remained intact and volume growth was in the range of 2-3 per cent while value growth is up 7-8 per cent.
"Demand has not been impacted for Parle Products in April," Shah said.
Venkatesh Vijayaraghavan, chief executive officer, CavinKare, said: "April is generally not a problem in terms of demand but this time demand for beverages was impacted due to unseasonal rain, especially during the peak demand season."
He added the overall industry was witnessing revival, especially in rural demand.