In spite of a severe second wave of the coronavirus pandemic, and a widespread disruption in public life therefore, India's fast-moving consumer goods (FMGC) sector seems to have emerged as one of the most resilient segments of the economy.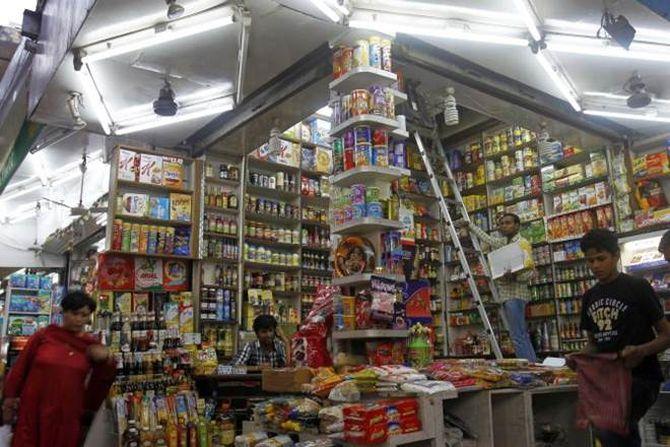 The early numbers and estimates for the April-June quarter indicate a steady recovery in FMCG players' business, which is now set to exceed the pre-pandemic level.
Amid nationwide lockdowns because of the first Covid wave, FMCG revenues had been severely affected in mid-2020.
Sales and profitability of all leading FMCG manufacturers had slipped below 2019 levels in spite of consumers doing panic purchase and storing their pantries.
During the second wave, between April and June this year, lockdowns and restrictions on retailing did impact business activities.
According to HDFC Securities, consumer buying patterns were more disciplined this time.
The benefits that packaged goods companies enjoyed due to pantry loading in 2020 was absent in 2021.
However, better penetration, supply chain efficiencies, targeted push for relevant products, and a massive digital push by FMCG manufacturers helped contain sales loss of sales.
The performance of the two biggest companies in this space – Hindustan Unilever (HUL) and ITC – reflects this trend.
In the April-June quarter this year, HUL, the largest non-tobacco FMCG firm in India, managed to exceed its revenue in the June 2019 quarter, backed by strong volume and sales growth.
Last year, its net sales had remained higher than the 2019 level but that was because its acquisition of GSK Consumer business had aided its top line.
For ITC, net sales in April-June 2021 were 12.5 per cent higher than those in the same quarter of 2019.
This recovery came after a double-digit decline last year.
However, the company's revenue from its hotels business remained 68 per cent lower than the pre-Covid level, and the cigarette business continued to suffer due to lockdowns.
According to Motilal Owsal's research, the cumulative revenue of the 18 leading FMCG companies grew by 19 per cent in the April-June quarter this year.
Their combined earnings before interest, tax, depreciation and amortisation (Ebitda) and profit after tax (PAT) grew 23 per cent and 25 percent, respectively.
During the same quarter last year, these companies' net sales, Ebitda and PAT had fallen 17 per cent, 29 per cent and 23 per cent, respectively, implying that their cumulative sales and PAT have gone past the April-June 2019 level.
The superior performance of top FMCG players shone during the June quarter this year, even as overall economic activities were significantly hit due to the second wave of Covid.
According to Nomura India Business Resumption Index, after peaking at 99.3 per cent (of the pre-Covid levels) in February, activities in May fell to 60 per cent – closer to the level a year ago.
Top executives of FMCG leaders like HUL and Dabur said their learnings from 2020 helped them prepare better and minimise losses this time.
According to CEO Mohit Malhotra, Dabur India had expanded rapidly into key consumer staples categories like edible oils in anticipation of a probable hit on its discretionary portfolio in 2021, and boosted its presence in its strong areas like the health supplement categories.
ITC's constant push and expansion of its health and hygiene portfolio since mid-2020 helped as the segment "bounced back" during the June quarter in spite of a high base.
Moreover, consumer staples and convenience foods portfolio reported a sequential rise.
According to the HUL management, a steady removal of travel restrictions in June boosted business activities.
As the extent of mobility rebounded, its skin care and colour cosmetics business grew at double-digit rates.
Meanwhile, its health, hygiene and nutrition business, which accounts for 85 per cent of its sales, grew by 8 per cent over a year earlier and 16 per cent over April-June 2019.
According to HUL chairman & managing director Sanjiv Mehta, in spite of a more severe second Covid-19 wave, business activities were less impacted due to the government's approach of "localised and calibrated lockdowns".
"It resulted in no panic buying and kept the supply chain and backend operations functional.
"Further, unlike the first wave in 2020, retail stores were allowed to operate for a limited number of hours even in areas under lockdowns.
"That helped us in catering to consumers," he said.
Further, their investment in growing their digital presence came in handy for leading firms like HUL and ITC during lockdowns.
HUL said the share of digital channels in its sales went past 10 per cent for the first time.
Its in-house online ordering platform, Shikhar, contributed five times more when compared with the same period last year, and the share of e-commerce channels also doubled.
For ITC, the share of e-commerce in its FMCG revenue more than doubled to eight per cent, even as it grew the coverage of its ITC e-Store platform, which promotes in-house brands, to 11 cities.
Armed with their new product lines and digital initiatives, top executives in the sector, such as Dabur's Malhotra and HUL's Mehta are now less jittery about a potential third Covid wave.
According to the latest CRISIL Ratings estimates, irrespective of Covid-related disruptions, the FMCG sector is set to see 10-12 per cent growth in 2021-22 – more than double the rate seen last financial year.
Photograph: PTI Photo