India on Wednesday assured US Inc that its concerns on infrastructure, investment restrictions and other impediments would be addressed expeditiously, and a roadmap would be prepared for discussions ahead of American President Barack Obama's visit in November.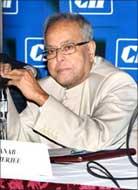 The US corporate world wanted India to address issues relating to foreign investment in infrastructure and insurance sectors, hoping that necessary legislative actions would be expedited, Indian Finance Minister Pranab Mukherjee told PTI in an interview in Washington.
Meanwhile, Indian Commerce and Industry Minister Anand Sharma, who also participated in the Indo-US CEOs summit, promised calibrated FDI liberalisation in sectors like defence and retail in the face of the US demand for opening up of different segments for foreign investors.
Seeking support of US investors for bridging an estimated $250-300 billion gap in the infrastructure investment needs of India in the next five years, Mukherjee assured American CEOs that a high-level panel would identify areas of concerns and prepare a roadmap for discussions before Obama's visit.
India's efforts to attract investments from the US is aimed at realising, as Mukherjee said, India's hope for double-digit economic growth by 2012, up from an estimated over 8.5 per cent in current fiscal.
Mukherjee also said that China allowing its currency yuan to appreciate against the US dollar would not have much impact on India and was a welcome step in the long run.
On the issues raised by American CEOs regarding creating a favourable investment scenario in India, Mukherjee said: "Certain issues that are pending, naturally they emphasised on it. For instance the opening up of the insurance sector, 26 per cent to 49 per cent, where legislation is pending."
He was asked whether the US CEOs sought more opening up on issues like taxation and liberalisation.
"Similarly to have the replicable model in respect of what we have done in the mega power project to replicate it in the sectors of road and others.
"There is also the land acquisition act, which is pending and rehabilitation of the displaced persons, these legislations are pending. So they expect that we shall have to expedite these legislative actions," Mukherjee said.
"I am happy that the way things are moving, and the chief executive officers representing important corporate sector, they also expressed their happiness that they are having exchange of views with the Indian Government," he added.
Terming his meetings here as very successful, Mukherjee said: "My bilateral discussions with Secretary of the State (Hillary Clinton) and the Secretary of Treasury (Timothy
Geithner) clearly indicated that they are interested in widening and deepening the relationship between India and the US.
"On the whole I say, this was a good visit and all the meetings were successful."
Mukherjee said that after returning to India he would "set up a committee, a small group, under Deputy Chairman Planning Commission (Montek Singh Ahluwalia), who will co-ordinate with all the ministries concerned on the issues which have been identified..."
The committee would then "prepare a roadmap on what could be done and what are doable, so that before (the US) President's visit to India in November, both the leaders (Obama and Indian Prime Minister Manmohan Singh) are in a position (to note) that these are the areas in which progress has been made and what further progress could be made, that could be known."
Mukherjee said that Indo-US relations were "moving in the right direction" and the two countries would surely make breakthrough in major areas.
"I am quite confident that in major areas we will be able to make real breakthrough. Our relationship is expanding very fast. Despite the slowdown, I think, both way international trade is $37 billion."
Asked why India was not getting much US investment into the infrastructure sector, despite it being a focus area, Mukherjee said: "We require more. It is incorrect to say that we are not getting. But we require more.
"Nearly one trillion dollar is the level of investment which would be required. 25 to 30 per cent of which ... still there is a gap. So this can be filled in by US companies, particularly in the long term infrastructure, for long term investment in road, shipping, communication, transport," he added.
"We have identified certain issues on which we should work together. And this was the recommendations made jointly by both Indian CEOs and the US counterparts - education, infrastructure, clean energy, bio tech and health," Mukherjee said.
"They also suggested what are the impediments in fully exploiting the relationship between our two countries and a breakthrough of the long term ideas," he noted.
Separately, Commerce Minister Anand Sharma said that India's initiatives like simplification and consolidation of the FDI policy would go a long way in improving business environment in India.
FDI is not allowed in multi-brand retail, which is dominated by the neighbourhood kirana stores and is a politically-sensitive topic. However, foreign players are permitted in wholesale trade as also in single-brand retail.
At present 26 per cent FDI is allowed in defence sector.      Sharma also met the US Trade Representative Ron Kirk and the two leaders agreed to enhance opportunities for bilateral trade and investment to create jobs in both the countries.
"Kirk urged India to address longstanding impediments such as investment caps, agricultural market access barriers, high tariffs, intellectual property rights and the need for continuing regulatory streamlining and transparency," the USTR spokesman Matthew Lawrence said.