A combination of bank guarantees, letters of credit, buyer's credit for computer servers have been provided to the two local operational arms by Kotak Mahindra Bank and Deutsche Bank.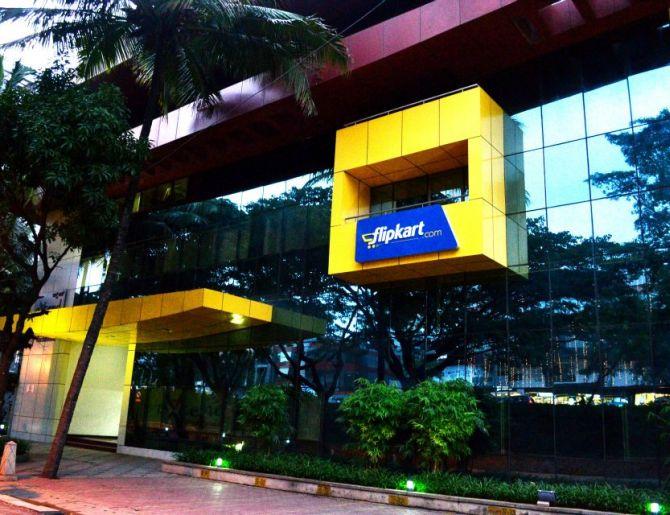 Flipkart India and Flipkart Internet have pledged assets to access credit facilities worth over Rs 1,400 crore (Rs 14 billion) from commercial banks.
The e-commerce giant maintains it is well capitalised and the borrowings are relatively minor.

But sectoral experts feel this could become a speed-breaker for the firm, which is hurtling towards a $10-billion sales target this year.
The credit facilities - a combination of bank guarantees, letters of credit, buyer's credit for computer servers and other working capital loans - have been provided to the two local operational arms by Kotak Mahindra Bank and Deutsche Bank.
A Deutsche Bank spokesperson declined to comment. An e-mail sent to the Kotak spokesperson did not elicit any response.
Filings between August and October with the Registrar of Companies showed Flipkart India, the entity that houses the wholesale business, pledged its investments in ICICI Prudential debt mutual funds for facilities that added up to Rs 650 crore
(Rs 6.5 billion).
In October, these were enhanced to Rs 820 crore (Rs 8.2 billion) by an additional pledge of fixed deposits.

Flipkart Internet, that runs the portal, had created charges totalling Rs 607 crore (Rs 6.07 billion) on its assets for credit facilities in these months.

The purposes ranged from capital expenditure for computer servers to foreign exchange management.
In response to e-mailed questions, a Flipkart spokesperson said, "Our business is growing at a rapid pace and we have sufficient capital to scale. The usage of any small banking loan is towards expenditure for supporting day-to-day cash operations to enable smooth functioning of the business."
This is the first time these entities reported 'charge on assets' since they came into being in 2012, following a restructuring exercise.
Flipkart India and Flipkart Internet are fully-owned by their Singapore-based parents.
These are in turn owned by the ultimate holding firm Flipkart Private Ltd, the $15.5-billion behemoth funded by venture capital majors such as Tiger Global, Accel partners and Naspers.

The local arms receive fund infusions from their parents in Singapore, usually through fresh allotment of shares.
Aswath Damodaran, professor of corporate finance and valuation at the Stern School of Business at New York University, said, "I think it is not only dangerous for any young, start-up, and especially with huge growth potential and large losses today to borrow money. By borrowing money, they run the risk of default and in the process, they are putting their growth potential at risk. Why do that?"
Company sources put the actual borrowings in the range of $70 million (around Rs 450 crore) and added it is not uncommon for young companies to borrow and the facilities were largely used for cash management purposes and are not long-term loans.

They also pointed out that the firm is sitting on over a billion dollars raised recently from investors.
Damodaran, whose views on valuations of unicorns like Flipkart and Snapdeal are widely respected in the industry, added: "It should not matter what it is for. It is just fundamentally inconsistent for a young, growth firm that is losing money to borrow money."
He did not see signs of a tightening funding environment for the company.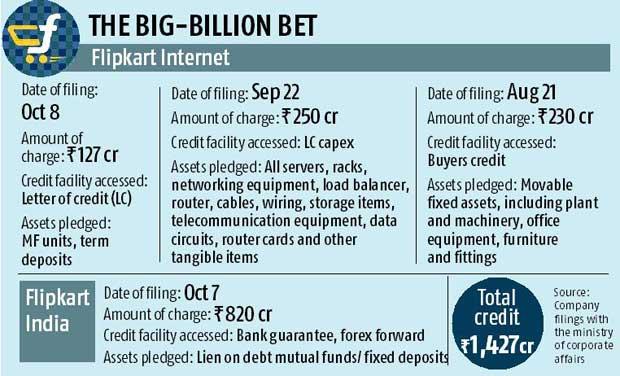 But, recent reports have suggested that funds such as Tiger Global are pulling back from top-up investments forcing portfolio firms to look for new backers.
The move to avail credit comes at a time when the leading online marketplace is locked in a fierce three-way market share battle with global major Amazon's India arm and Softbank-backed Snapdeal.
Ahead of the Indian festival season Flipkart organised the 'Big Billion sale', a shopping orgy driven by deep discounts and a traditional media-led advertising blitzkrieg.
Snapdeal's operating firm Jasper Infotech has not reported any charges on assets.
Both Flipkart India and Flipkart Internet reported losses for the year ended March 2015.
In the new financial year, they might have interest costs to add.