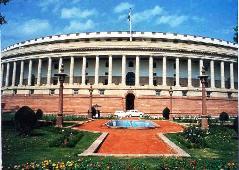 The Finance Ministry has proposed e-auction to sell its residual stake in Hindustan Zinc and Balco in which Vedanta Resources, the existing majority stakeholders of the companies, could also participate.

"The appropriate transparent manner to disinvest/dispose of shares of the two companies (HZL and BALCO) would be through an e-auction of the shares," said Finance Secretary R S Gujral in a recent communication to Mines Ministry on the issue of residual stake sale.

The government, which currently holds 29.5 per cent stake in HZL and 49 per cent stake in Balco, is looking at exiting from the two firms in which Anil Agarwal-led Vedanta Group holds majority stake.

The government had sold controlling stake in these companies between 2001-2003.

". . . This may be feasible if Sterlite/Vedanta has the right to participate in the open bid/auction and have to opportunity to purchase the shares offered by the government in the said auction," the letter added.

In January, Agarwal-led Vedanta Resources had offered Rs 17,275 crore (Rs 172.75 billion) for government's remaining stakes in HZL and Balco.

Even as the finance ministry believes that it makes no strategic sense to hold onto the minority stakes in the two companies, they feel that the right valuation can be obtained
through the auction route.
The letter further said that since the government holds only minority stake in the two companies, they should not be called Public Sector Undertakings and "there is no strategic issues involved in maintaining any controlling stake in the company".
With this push from the finance ministry, it now seems that the long-pending stake sale may take place soon after the Cabinet Committee on Economic Affairs takes a decision in this regard.
At present, HZL is the richest profit-making subsidiary of Vedanta with a cash and cash equivalent of Rs 19,136 crore (Rs 191.36 billion) as on September, 2012. The company had reported a net profit of Rs 5,526 crore (Rs 55.26 billion) and net revenues of 11,405 crore (Rs 114.05 billion) in 2011-12.
On the other hand, Balco is an unlisted subsidiary of Vedanta and its valuation has been a bone contention between the mining firm and the government.
Last week, the government had raised Rs 808 crore (Rs 8.08 billion) by selling 5.58 per cent stake in Hindustan Copper, which was the first stake sale in a PSU in the current financial year.
The government may pare some of its stakes in few more companies like NMDC in 2012-13 fiscal.
The Kelkar Committee report on fiscal consolidation too had suggested that government should offload residual stake in the companies which had been privatised earlier.