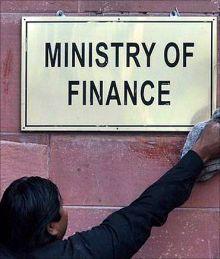 Ahead of Budget 2016-17, the government on Monday announced a few changes in the finance ministry, transferring the disinvestment secretary and a special secretary in the revenue department, effective next month.

Amitabh Kant, secretary, department of industrial policy and promotion, would hold additional charge as NITI Aayog chief executive officer.
At NITI Aayog, Kant replaces Sindhushree Khullar whose term ends on Thursday.
Khullar is known to be the brain behind two key campaigns of Narendra Modi government -- Make in India and ease of doing business.

Neeraj Kumar Gupta, special secretary, department of public enterprises, would be the new disinvestment secretary, said an official statement.
Gupta, a 1982 batch UP-cadre IAS officer, replaces Aradhana Johri, who would now be the Chairperson of the National Authority for Chemical Weapons Convention.

Johri took charge of the disinvestment department in October 2014 and by February was responsible for 10 per cent stake sale in Coal India for Rs 22,600 crore (Rs 226 billion).

For 2015-16, the disinvestment department faced a rather steep target of Rs 69,500 crore (Rs 695 billion), of which Rs 41,000 crore (Rs 410 billion) is estimated to come from 5-10 per cent stake sale in public sector undertakings through the offer-for-sale route, while the rest (Rs 28,500 crore or Rs 285 billion) is expected to come from strategic sale in loss-making PSUs and unviable government assets.

During April-September period, Johri managed to divest stake in four companies -- PFC, REC, Dredging Corp and Indian Oil -- for around Rs 12,600 crore (Rs 126 billion).
This is highest ever for the first half of any given fiscal.
However, not much could be done since then because of weak markets, low oil and commodity prices, and massive fluctuations in the bourses.

Rashmi Verma, special secretary, department of revenue in the finance ministry, will be promoted and transferred as textiles secretary.
Verma handles Goods and Services Tax, besides other tax issues in the finance ministry. While Verma will replace Sanjay Kumar Panda, her replacement in the finance ministry has not been named yet.

Meanwhile, Sanjay Mitra, the West Bengal chief secretary was appointed as the Roads Secretary.

Preparation of the Budget could be gauged from the fact an official announcement has barred the entry of journalists in the finance ministry.