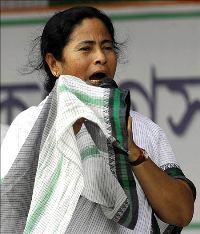 West Bengal Chief Minister Mamata Banerjee, who has sought to meet Prime Minister Narendra Modi for debt waiver, on Monday termed as 'bunkum' reports that West Bengal had been given a financial package and stuck to her demand that Centre stop deducting interests on loans.
Close on the heels of Union Finance Minister Arun Jaitely's announcement in the budget that West Bengal along with Bihar would be given special assistance on the lines of Andhra Pradesh, Banerjee who was addressing a programme in Kolkata said, "There was no (financial) package as such.
"It is all bunkum.
"We used to get 61.8 per cent. That is being raised to 62 per cent. . . Frying fish in its own oil," Banerjee, the chairperson of Trinamool Congress, said in an apparent dig at the Centre.
"We are asking (the Centre) to stop taking away money from us. You don't deduct money," she said.
In a fresh bid to seek a waiver of the huge debt burden her government inherited from the Left Front regime, Banerjee had last week sought an appointment with Modi, urging him to consider the demand.
"I have written to the Prime Minister to consider waiver of the debt burden on us immediately.
"I have sought an appointment to meet him along with a delegation of my Members of Parliament to discuss the issue," Banerjee had said on Facebook on February 25.
The deduction of about Rs 28,000 crore (Rs 280 billion) every year towards debt taken by the previous government has been increasing.
"No other state in the country is as 'debt-stressed' as West Bengal because of the gross misrule of the previous Left Front government for 34 long years."
"Our state needs immediate relief from the debt burden, so that growth and development efforts continue unhindered," Banerjee had said.
State Finance Minister Amit Mitra on February 28 referred to the increase in devolution of funds by the Centre from 32 per cent to 42 per cent and aggregation of all central grants, grants-in-aid and additional central assistance given to states in last year's budget amounted to 61.88 per cent.
"Last year it was 61.88 per cent and next fiscal it would be 62 per cent.
"It (financial package) is a bluff," he had said, adding, it is not clear and also not sure whether the special package would come at all.
Image: West Bengal Chief Minister Mamata Banerjee. Photograph: Reuters