After showing a consistent rise in the previous 4 quarters, gross NPAs of 40 listed bank declined to Rs 10.03 trillion at the end of June 2018, from Rs 10.25 trillion in the previous quarter.
Illustration: Uttam Ghosh/Rediff.com.
Gross non-performing Assets of listed domestic banks dipped by Rs 220 billion in the first quarter ended June (Q1FY19), sequentially, compared to the previous quarter (ended March), indicating that the asset quality recognition cycle is almost over.
An analysis of the results analysis of 40 listed banks revealed that GNPAs declined to Rs 10.03 trillion at the end of June 2018, from Rs 10.25 trillion in the previous quarter.
The previous four quarters had showed a consistent rise.
The country's largest lender, SBI, for instance, saw a sharp dip of Rs 105.87 billion -- to Rs 2.12 trillion in June from Rs 2.23 trillion at end of FY18.
Bankers said the resolution of some big-ticket stressed loans such as Bhushan Steel and Electrosteel Steels, and writing off bad loans, which are fully provided for, helped reduce GNPAs at the end of June 2018.
The upgrade of accounts also played a small role in reducing the bad loan kitty.
Persistent efforts of recovery from a variety of loans -- large-size, medium-size and small enterprises, retail and farm sector -- are beginning to bear fruit.
The pace of incremental additions to the NPAs' kitty may moderate in the coming quarters.
This should not prompt any sense of comfort or satisfaction as the power sector is still struggling with stressed thermal power units and small and medium enterprise loans.
It will be absolutely wrong to say "asset quality woes are over", as banks have to provide for aging NPAs, and chase defaulters to recover dues.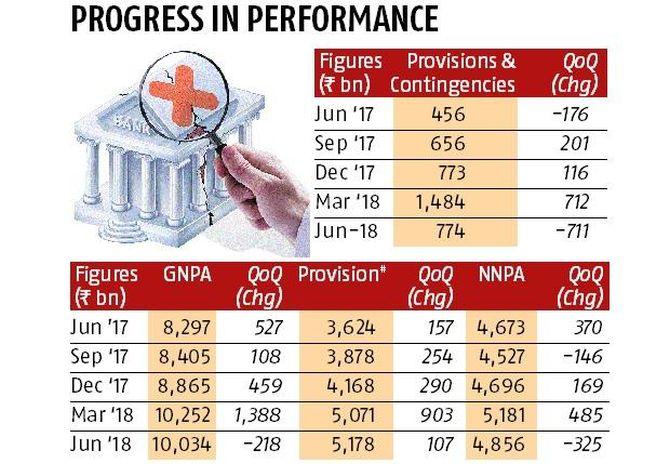 Net NPAs, the pool of bad loans for which banks are yet to make provisions, declined by Rs 325 billion to Rs 4.85 trillion in June from Rs 5.18 trillion at end of March.
Credit rating agency CARE Ratings, in its review of performance in Q1 FY19, said another quarter of moderation in growth of NPAs could indicate that the recognition cycle was over.
Concurring with rating agencies' assessments, a senior public sector executive said while monitoring and recognisition of bad loans would remain on the radar, creating provisions, resolutions and recoveries to improve asset quality profile of banks was now top priority.
Credit bureau Trans Union CIBIL, in its report last week, said the latest analysis suggested India's bad debt problem had apparently peaked in September 2017. If a spike in Gross NPA takes place, it will not be because of incremental economic deterioration of the asset but due to formal recognition of the same.
Future NPAs are driven by the stocks of "Irregular Accounts", which from technical perspective, are equivalent to 'Defaults' according to credit rating agencies.
They continue to treat the 'one rupee, one-day delay as default', going by the best global practices.