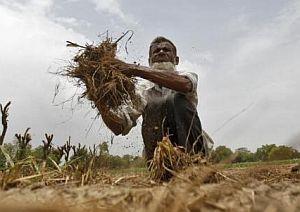 The 70th report on the "Situation of Agricultural Households in India", released by the National Sample Survey Organisation (NSSO) on Saturday, reveals that much is wrong with Indian farmers' economic status, despite several programmes being run by the government to raise their incomes.
Over half of all farm households are heavily indebted; 26 per cent of them owe money to moneylenders who could be charging interest rates over 20 per cent.
In fact wage employment, and not farming, is the principal source of income for 56 per cent of land-owning families, while it is livestock for about 23 per cent of them.
The average monthly income of an Indian farm household has been assessed at merely Rs 6,500 - bearing out the observation made in the mid-2000s by the National Commission on Farmers that an average farmer earns less than a peon in a government office.
Indeed, the survey results do not hold too many surprises given that some of the trends captured by it conform to the already prevailing notions about the poor economic health of farmers.
However, these numbers do suggest flaws in the implementation of the government's agricultural development and social welfare programmes. High prices of agricultural commodities kept food inflation at double digits in the past few years, but farmers may not have benefited sufficiently.
This is perhaps because the government's minimum support prices (MSP) and procurement operations have problems; the survey reveals that not only is awareness about the MSP and procurement surprisingly low, but most of those who are aware of these fail to even sell their produce to government agencies.
The problems with crop insurance, which could let farmers hedge their production and income risks, are similar.
Over 95 per cent of paddy and wheat farmers and nearly 99 per cent of sugarcane growers do not insure their crops.
Moreover, regardless of a manifold increase in the flow of institutional credit to agriculture in the past decade, the informal sector still remains relevant for meeting the funding needs of small and marginal farmers.
It seems that a sizeable part of the additional bank credit may be going to the same set of farmers who have a better repayment record. More farmers should be linked to formal finance.
The survey also indicates that the rural employment guarantee scheme (MNREGA) is an important source of employment and income generation.
But not enough people are gaining access to it. About 44 per cent of all farm families have MNREGA job cards, but the proportion of card holders among those who own less than 0.01 hectare - those that need the programme the most - is just 38 per cent.
Worse still, nearly 13 per cent of these marginal land-holding households do not even have ration cards to access subsidised food.
Clearly, much more care has to be taken to expand the net of agricultural welfare policies if they are to be effective.
It is important to take note of the survey's finding that several small agriculturists have quit farming.
The total number of farmers in India has dropped to 95.8 million in the 2011 Census, from 103 million in 2001 and 110 million in 1991.
Some of this may be because of the availability of other sources of income as the economy grows.
That should be welcomed.
But it is important nevertheless to ensure that those who choose to stay back in farming have access to well-designed schemes that can alleviate sudden economic distress.