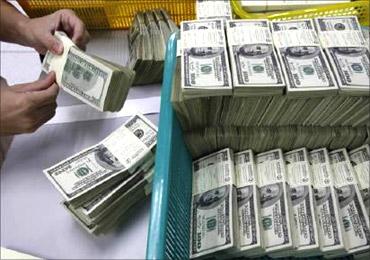 Bullish on a series of reforms unveiled in the year passing-by, the government expects foreign direct investment inflows to rise by 40-45 per cent in the New Year while further steps could be on anvil to attract foreign capital.
As per the latest available figure for 2015, FDI inflows during January-September period has increased by 18 per cent to $26.51 billion.
In the entire 2014, India had received FDI worth $28.78 billion as compared to $22 billion in 2013.
"FDI will grow by 40-45 per cent in 2016 despite the global slowdown.
"The government has taken vast number of policy measures this year," Secretary in the Department of Industrial Policy and Promotion Amitabh Kant told PTI.
The sectors that have attracted maximum FDI this year include services, computer hardware and software, telecom, automobile and trading.
Singapore is the top source for FDI coming into India, followed by Mauritius, UK, Japan, the Netherlands and the US.
To streamline the FDI structure, the government this year introduced a composite foreign investment cap by clubbing all forms of overseas investments to define sectoral limits.
It has also relaxed e-commerce norms for foreign companies having manufacturing facilities in India.
Kant said that the steps announced to improve ease of doing business would help India in becoming one of the easiest places for investors.
He said that the government is planning to put 98 per cent of sectors, which are open to foreign investments, under the automatic route so that businessmen won't need to visit the Finance Ministry or 'Udyog Bhavan' for any approval.
India's ranking in the World Bank's report on ease of doing business improved to 130th position this year from 142nd last year out of 189 countries.
The prime minister has set a target to bring this rank to top-50.
For the first time, states have also been ranked in terms of ease of doing business.
Gujarat topped the World Bank-compiled ranking of Indian states for bringing in reforms to improve 'ease of doing business'.
Foreign Direct Investment is important for the country as it needs around $1 trillion worth investments between 2012-13 and 2016-17, the 12th Five Year Plan period, to fund infrastructure growth covering sectors such as ports, airports and highways.
Experts said there are huge expectations for a significant jump in FDI flows in 2016, but a lot would depend on the 'Make in India' programme.
"FDI should improve next year but much will depend on the performance of 'Make in India' programme in terms of more reform measures and steps to further improve ease of doing business in the country," said Krishan Malhotra of corporate law firm Shardul Amarchand and Mangaldas.
As part of the reform measures, the government has hiked foreign investment caps, opened new sectors and relaxed norms for several segments.
It permitted portfolio investors to buy up to 74 per cent in local private banks, with full fungibility, while palm, coffee and rubber plantations have been opened up for the first time.
FDI norms have also been eased in real estate, defence, civil aviation and news broadcasting sectors.
Sourcing rules for single brand retailers, particularly for high-tech, have been eased by allowing them to sell online without specific permissions.
But there is no change in 51 per cent limit for multi-brand retailers like Wal-Mart.
To improve investment climate, the DIPP has taken a series of steps that include having a time line for clearance of applications, de-licensing the manufacturing of many defence products and introduction of e-Biz project for single window clearance.
Image: US dollars. Photograph: Reuters
© Copyright 2023 PTI. All rights reserved. Republication or redistribution of PTI content, including by framing or similar means, is expressly prohibited without the prior written consent.