Dairy companies in the organised sector are yet to state their stance on the proposed stir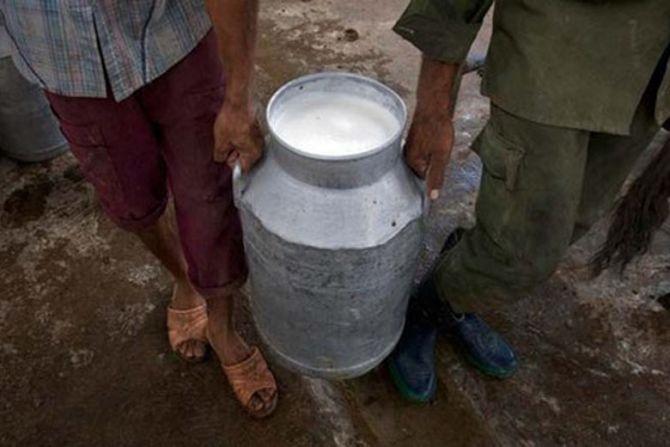 Swabhimani Shetkari Sanghatana, a farmers' outfit led by Raju Shetti, a Lok Sabha member, has convened a meeting of dairy farmers and processors in Kolhapur on Friday, for their support to stop supply of milk to dairy companies and common consumers from July 16.
The Sanghatana claims around a million farmers in the state are supporting it and would not supply any milk to dairy companies from that date. The protest is at low prices.
However, it is uncertain if other associations and farmer bodies would join. Many of these in Maharashtra had not supported the recent protest organised by the Rashtriya Kisan Mahasangh to halt sale of farm proceeds between June 1 and 10.
"The government failed to deliver the promises made to call off the earlier protest. Hence, we do not have any option but to come on the streets. We had not taken law and order in our hand last time, which cannot be ruled out this time," said Yogesh Pande, spokesperson of the Sanghatana.
Maharashtra contributes a sixth of the 53.8 million tonnes of India's annual (this was for 2017-18) liquid milk production.
Overall milk production in India was 165 mt for 2016-17, a rise of 6.5 per cent from the previous year.
The five largest producers are Uttar Pradesh, Rajasthan, Gujarat, Madhya Pradesh and Andhra Pradesh.
Dairy companies in the organised sector are yet to state their stance on the proposed stir.
"We would take a final decision about support after reviewing the progress," said Devendra Shah, chairman, Parag Milk Foods.
If transporters, chilling plants, milk collection centres, etc, take part in the protest, supply to consumers in Maharashtra would take a big hit.
The Sanghatana has written a letter to state chief minister Devendra Fadnavis for a minimum support price at Rs 30 a litre.
They say this is the minimum cost of production. Dairy companies are paying farmers Rs 21-22 a litre; packaged cow milk sells at Rs 48-52 a litre.
In some parts of Maharashtra, farmers get only Rs 17-18 a litre, is the complaint.
"Dairy companies argue they cannot pay farmers higher than Rs 21-22 a litre due to falling prices of skimmed milk powder in the international markets. They compensate part of this fall through lower payment to farmers," says Pande.
Photograph: Reuters